Kim Cattrall and Don McKellar take on Sensitive Skin
Cattrall (pictured) will star and exec produce, while McKellar will direct the half-hour comedy based on a U.K. series.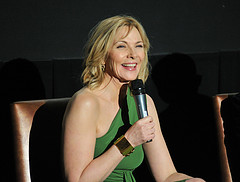 The Movie Network and Movie Central have commissioned six episodes of Sensitive Skin, a half-hour comedy starring and executive produced by Kim Cattrall and co-starring and directed by Don McKellar.
The laugher, which is based on a U.K. series that first premiered in 2005, revolves around a woman going through a mid-life crisis.
Rhombus Media will produce it in association with Baby Cow and Sundance Productions.
The show was created by Hugo Blick and will be written by Bob Martin.  Niv Fichman (for Rhombus Media) and Sari Friedland will produce it.
In addition to Cattrall and McKellar, Bob Martin, Henry Normal (Baby Cow Productions) and Hugo Blick are attached as executive producers. Kate Alexander Daniels is an associate producer.
The series will air on Movie Central in Western Canada and The Movie Network in Eastern Canada. It is being produced in partnership with the Canada Media Fund.