Eugene Levy to guest star in Package Deal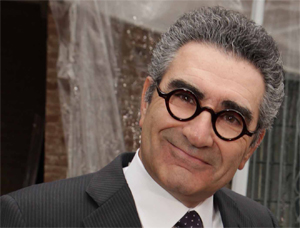 Veteran Canadian actor Eugene Levy is booked for a three-episode stint on upcoming comedy series Package Deal from Vancouver-based Thunderbird Films and broadcaster Citytv.
Levy will play a repeatedly-married man whose wives keep mysteriously dying, proving to be a challenge for his lawyer, played by Randal Edwards, one of the series leads.
Package Deal, created by Andrew Orenstein, stars Canuck comedians Harland Williams and Jay Malone, along with Edwards and Julia Voth.
The 13-episode multi-cam series is currently in production in Burnaby, B.C., taping in front of a live studio audience.
The series follows three overly close brothers and the woman that comes between them.
Package Deal is produced by Thunderbird Films, with Denise Moss and Stevie Ray Fromstein in the writers' room. Endemol Group will distribute the series internationally.