WFF announces China-Canada script competition finalists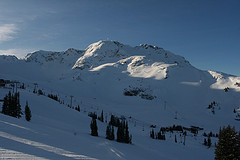 The Whistler Film Festival has announced that 12 Canadian writer/producer teams will participate in this year's inaugural China Canada Gateway for Film Script Competition.
Up to $15 million in financing is on the table in the pitching competition, presented in association with Telefilm Canada, which is designed to stimulate international financing for Canadian feature film projects and to introduce Canadian writer/producer teams to Chinese studios.
The writer/producer teams, selected from 109 applicants, are as follows:
Blush – written by Richard Bell; produced by Elizabeth Yake (It's All Gone Pete Tong)
Butterfly Tale – written by Heidi Foss; produced by Marie-Claude Beauchamp (Edge of Madness)
Delicious – written by Jennifer Scherwin; produced by Christopher Zimmer (Partition, Wise Girls) and Bill Fleming (Buried on Sunday)
Disappeared – written by Pascal Boutroy; produced by Deborah Carlson and Liz Jarvis, Buffalo Gal Pictures (Mad Ship – showing at WFF 2012, The Stone Angel)
Frank – written by Patrick Tarr (The Colony); produced by Nicolas D. Tabarrok, Darius Films (A Beginner's Guide To Endings, The Black Marks)
Imposter – written by Lorenzo Orzari, Vivavision Inc. (My Bloody Valentine 2); produced by Jean-Pierre Morin, Vivavision Inc.
Pop Goes The Weasel – written by Norman Snider (Dead Ringers, Casino Jack); produced by Chris Nanos (Everything's Gone Green)
Rock Bottom – written by Wendy Ord and Glen Samuel (Black Swan); produced by John Bain and Kathy Avrich-Johnson (Rookie Blue, Saving Hope)
Space Race – written by Yung Chang (China Heavyweight, Up The Yangtze); produced by Bob Moore, Eyesteel Film (China Heavyweight) and Christina Piovesan, First Generation Films (Red Lights, The Whistleblower)
Red Serge Duty – written by Sandy Yates; produced by Henry Damen and Ian Smith
The Eddie Zhao Story – written by Guy Bennett (Punch); produced by Raymond Massey (The Papal Chase – 2004 Borsos winner, Personal Effects)
The Real Estate – written and produced by Robert Budreau (That Beautiful Somewhere) and Tasso Lakas.
The finalists will pitch their script synopses to a panel of three international experts and three Chinese production companies at the WFF industry summit on Nov. 29.
At least three projects will be chosen for development in 2012, and a total of nine projects will be chosen over three years.
The expected average project budget is $5 million.
"China offers a new source of production financing and distribution opportunities for Canadian filmmakers, however up until now it's been a difficult market for Canadians to penetrate. Canadian writer/producer teams can benefit from WFF's formal introduction to Chinese production houses looking for experienced storytellers. This is just the beginning of mutually beneficial co-productions between the two countries," said Jane Milner, Whistler Film Festival Society managing director in a statement.
"Developing the Chinese market is a key component of our corporate strategy to build audiences for Canadian productions and to stimulate private financing. The [competition] provides new opportunities for increased collaboration between our film industries," said Telefilm director of industry promotion Sheila de la Varende in her own statement.
The three Chinese production companies are Wuxi Studios, represented by Lifeng Wang (also representing Xing Xing); Beijing Hairun Pictures, represented by producer and director of international cooperation Victoria Hon; and Galloping Horse, represented by vice chair Ivy Zhong, also chairwoman of Digital Domain
The international experts vetting the pitches include Lionsgate Films president of Mandate International Helen Lee Kim; Arclight Films head of Easternlight Ying Ye; and Alliance Films sernior VP Mark Slone.
The Whistler Film Festival takes place Nov. 28 to Dec. 2, 2012.