Blackstone receives greenlight for third season
The series, produced by Edmonton-based Prairie Dog Film + Television in association with APTN is slated to air in 2013.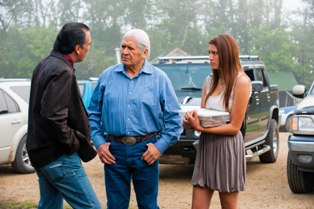 Edmonton-based Prairie Dog Film + Television announced Wednesday that APTN has given its award-winning series Blackstone the go ahead for a third season.
The series, which stars Carmen Moore, Eric Schweig and Playback Hall of Famer Tantoo Cardinal, follows the tumultuous lives of the community of the fictional Blackstone First Nation Reserve.
Shot in Edmonton, Blackstone is helmed by Ron E. Scott, who is also the series' screenwriter, alongside Damon Vignale.
The show is exec produced by Scott, with Vignale and Jesse Szymanski acting as producers.
It is produced in association with APTN, with the participation of the Canada Media Fund and the Rogers Cable Network Fund, as well as the assistance of the Government of Alberta's Alberta Multimedia Development Fund and the Canadian Film or Video Production Tax Credit.
Blackstone currently broadcasts in Canada on APTN and in New Zealand on Maori Television, and is distributed internationally by PPI Releasing.
Season three of the series is slated to air in 2013.