Picnicface, Roller Town win big at Canadian Comedy Awards
Awards for the sketch comedy show (pictured) include best TV show and best writing, while the upcoming theatrical feature won best film and best direction.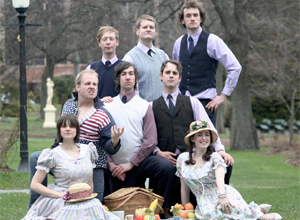 The members of Halifax-based sketch comedy troupe Picnicface picked up multiple awards for their not-renewed Picnicface (pictured) TV show, which aired on The Comedy Network, and upcoming Roller Town feature film, at Sunday's Canadian Comedy Awards.
Picnicface grabbed awards for best TV show, best writing for a TV program or series (Andrew Bush, Garry Campbell, Kyle Dooley, Cheryl Hann, Mark Little, Mark Macquarrie, Evany Rosen, Scott Vrooman and Bill Wood), and best performance by an ensemble.
And Roller Town won best film, best writing for a film (for Scott Vrooman, Mark Little and Andrew Bush) and best direction by Andrew Bush.
Mark McKinney took an award for best direction for a TV program or series for an ep of Less Than Kind, while Bob Martin (Michael: Tuesdays and Thursdays) and Lauren Ash (Almost Heroes) won awards for best male and female TV performances, respectively.
And Gavin Crawford (French Immersion) and Jocelyne Zucco (Funkytown) were named winners for best male and female film performances, respectively, while The Casting Room was named best web series.
Elsewhere, comedian Nikki Payne was named Canadian Comedy Person of the year.
Juried award winners were Jo-Anna Downey, who received the Phil Hartman Award, Colin Mochrie for the Dave Broadfoot Award and Simon Fraser for the Roger Abbott Award.
The Canadian Comedy Awards were handed out Aug. 26 in Toronto. The full list of award winners is available on the Canadian Comedy Awards and Festival website.