75% of screen professionals to sell homes, exit Sask: survey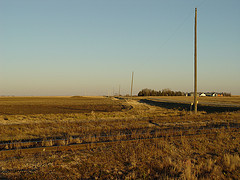 The Saskatchewan media industry has spoken – 198 film, TV and digital media professionals, to be exact – and the message is clear: they're closing up shop.
In fact, 45% of respondents to the recently completed Saskatchewan Media Industry survey said they expect to or plan to leave the province entirely over the next two years; 50% in the next six months.
The survey, conducted by Saskatchewan Media Production Industry Association board member Annelise Larson, collected voluntary responses from the province's film, TV and digital media industry between June 8 and June 25, 2012.
The SMPIA undertook the survey for three main reasons – to create a quantitative measure on industry activities following the elimination of the refundable Saskatchewan Film Employment Tax Credit (SFECTC), to gather feedback to refocus SMPIA's own mandate going forward, and to secure a method of measuring the outcome two to three years down the road.
Exodus quantified
Larson told Playback last week, "We were hearing anecdotally that many people were selling their houses and leaving but had no concrete numbers on what that meant or looked like."
They were hearing right. Indeed, 75% of the survey respondents – 54% of whom self-identified as working in film, and 12% of whom self-identified as a combination of film, TV and digital media – said they plan to sell their homes.
Further, 21% of respondents include "owner" or "producer" as part of their job titles; many have worked in the industry for 15 years or more, reporting that they have brought in anywhere from $500,000 to $300 million in production to the province over the span of their careers.
"It is a very sad picture," said Larson of the results.
"No one wants to leave. Saskatchewan has a strong pull on their hearts. Many have lived here for generations but feel they are being forced to choose between family and career. Those who leave need to follow the work or business model that will allow them to continue to make projects. Most of those who are staying feel they will likely have to change careers and/or retrain," she added.
In fact, the majority of respondents to the survey – 85% – said they anticipate a career change or significant change to their business model.
One company that will change models to stay in business is Angel Entertainment.
Angel Entertainment co-founder and producer Bob Crowe talked to Playback about his take on the survey results, and how Angel will adapt to the shrinking Saskatchewan industry.
"It's going to suffer for the short-term… We began writing contingency plans the day the government dropped this bombshell on the floor of the legislature," Crowe said of the company, which produces scripted film and TV projects.
"We had a number of projects on the development slate that were co-productions, and those productions will now shoot in other jurisdictions," he adds.
Crowe says that a year ago, before talk of eliminating the tax credit came up, Angel also completed an arrangement to buy a minority stake in Toronto-based production and distribution company Union Pictures.
The elimination of the SFETC, Crowe explained, "made it more important for us to conclude that deal. So we're doing things a little bit differently from a lot of our friends here who are just pulling up stakes and selling their homes and moving their families."
Also different for Crowe and his Angel co-founder and fellow producer Wally Start is that their other Saskatoon-based video production company, Bamboo Shoots, will remain stable because it does not rely on a tax credit for its production, added Crowe.
Bamboo produces corporate commercial projects and work for SaskTel, including four to five hours per week of TV for the SaskTel Max channels, and the company just sealed a five-year deal with the Saskatchewan Roughriders to produce the Jumbotron game segments.
But despite their positive situation, Crowe says the industry picture is grim, even if the government were to now take steps to rectify the situation.
"It's too late. The crews have left. The U-Hauls are being packed up, and productions are being moved, and there won't be an industry here. Even if we're able to turn this around in a year and a half, [old-style] tax credits are back, it would be exceedingly difficult to coax people to come back and try to restart the industry," said Crowe.
Turn out the lights?
And to acknowledge what Crowe calls "the impending demise of the Saskatchewan industry," Angel Entertainment this Saturday is putting together a minute-and-a-half filmed spot called "Last One to Leave," featuring industry professionals like directors, producers, performers, tech talent and crew.
"[The spot is] going to be a poignant goodbye to what we had here in Saskatchewan. That sounds pretty sad and final I know, but that's the way everybody feels," Crowe observed.
And while the government has installed a new, non-refundable tax credit as of July 1, the industry continues to call the move short-sighted and antagonistic to screen industry.
"They set up the terms of reference for this on day one, when they started to vilify the industry…totally ignoring what they know to be the solid financial reasons that all the other jurisdictions engage in [tax] incentives, and ignoring all of the incentive that they provide to other industries in Saskatchewan," Crowe said.
He adds that the decision has negative impacts on other cultural sectors in the province as well, pointing to recording studios in Saskatoon and Regina that took in business from the media production industry, which now will have to concentrate their efforts solely on its industry niche. As well, crew members like carpenters and set designers who work during theatre season, and usually supplement their incomes with the film industry during the summer, will find it harder to keep steady work.
Both Larson and Crowe echoed the sentiment of survey respondents – that the government is banking on the story going away before residents head to the polls again in a few years.
A total of 26% of respondents voted for the now governing Saskatchewan Party in the last election.
"They all feel immensely betrayed and disrespected. They won't forget. There is a legacy here that can be revisited in three years when the election machinery starts up again," Larson said.