Rainmaker sells animation studio to Xing Xing Digital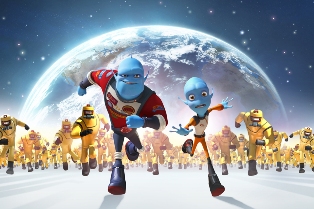 Vancouver's Rainmaker Entertainment is selling its animation studio to Beijing-based animation company Xing Xing Digital.
The studio is specifically being purchased by a wholly-owned Xing Xing subsidiary, called Rainmaker Studios Inc. (RSI).
As part of the deal, announced Wednesday, Xing Xing assumes $7 million in Rainmaker debt as well as all real estate property leases, Rainmaker explained in a statement.
The agreement requires the approval of Rainmaker Entertainment's shareholders, as well as regulatory approval. There is a shareholder meeting scheduled for July 31.
A component of the deal sees Rainmaker providing a four-year, $5-million loan to RSI. The loan carries interest of 2% above prime rate, and can be pre-paid at any time penalty free.
Rainmaker also gets an option, exercisable in the fourth year of the loan, to convert the loan principal and accrued interest into common shares of RSI. Rainmaker could buy up to 30% of the shares. Rainmaker can also name five directors to RSI`s board.
Based on the starting principal amount of the loan, Rainmaker would be entitled to acquire 30% of the outstanding common shares of RSI at the time of conversion. Also, during the term of the loan, Rainmaker shall be entitled to nominate one of five directors to the board of RSI.
Tim McElvaine, chairman of the board, said in the statement, "Following completion of the transaction, Rainmaker's assets will include working capital in excess of $2 million, proceeds of the RSI loan, the potential to participate in any adjusted gross revenues payable to the producer of Escape from Planet Earth (pictured) and substantial non-capital tax losses. The board remains committed to maximizing the value of these assets for Rainmaker's shareholders."
Escape from Planet is a big budget animated sci-fi film whose cast includes Jessica Alba, Brendan Fraser and James Gandolfini, according to IMDB.
This is the second time this week that Rainmaker has been in the news. On Monday the company announced that president and executive producer Catherine Winder will leave the company June 30.
Xing Xing has a studio with more than 300 high-end CG artists. It has worked on numerous international productions, including animated TV series Fireman Sam, Wild Animal Baby Explorers and Secret Millionaire's Club. The company has also completed post-production and VFX work for many films including Twilight, Changeling, Angels & Demons, Tropic Thunder and Red Cliff.