Slice joins westward Canadian TV caravan with Intervention Canada 2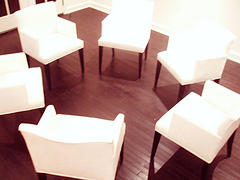 Slice has ordered a second season of Intervention Canada, as it joins the westward swing of Canadian media in search of lucrative TV markets.
The sophomore run of the reality series from Insight Productions and Open Door Co., now in production, will feature two new interventionists, Vancouver-based Joey Marcelli, and Sue Donaldson of Victoria, British Columbia.
The original two interventionists, Andrew Galloway and Maureen Brine, will return for the second season.
The strategy is to add two west coast interventionists to assist subjects and their friends and family at the point of crisis, and take the burden off of Galloway and Brine, who have their own Toronto practices to deal with, and are hard-pressed to travel out west.
The western Canadian episodes also follow a host of Canadian TV networks moving west, in search of audiences and advertisers in increasingly prosperous west coast Canadian provinces.
The CBC earlier this week announced that Vancouver anchor Ian Hanomansing will host an expanded CBC News Now coverage from the west coast city.
And Rogers Media has expanded its Citytv network into Saskatchewan by acquiring SCN and signing an affiliate deal with The Jim Pattison Broadcast Group to serve TV stations in the interior of British Columbia.
Elsewhere, Slice launched the Real Housewives of Vancouver reality series in Lotusland, after Vancouver-based Lark Productions earlier scouted for back-stabbing society belles in Calgary, Toronto, Ottawa and Montreal.
Intervention Canada, based on the A&E series Intervention stateside, comes to Canada via a format deal with A&E Television Networks.