Sales and distribution round-up
Entertainment One and Tricon Film & Television each sold off rights to nine properties, in what was a busy week for Canadians expanding their properties' global reach.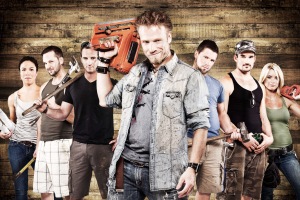 There was lots of activity for Canadians this week in the international market.
Entertainment One  secured sales for nine of its properties, with Finland and Turkey leading the demand.
In Finland, FOX International channels Oy picked up free and pay-TV rights to The Walking Dead and MTV3 secured pay-TV rights to Outlaw Bikers, while Turkey's D-Smart got pay-TV rights to Re-Genesis and Sinema TV secured Hollywood News Report.
Spain's Chello Multicanal Iberia acquired pay-TV rights to the films The Bang Bang Club and Wrecked, and Belgium and Germany round out the European buyers, with the former's Telenet securing the pay-TV rights to The Firm, and the latter's Viacom International Media Networks scoring free-TV rights to Kenny vs. Spenny.
Entertainment One's Australian TV arm, Hopscotch also secured worldwide sales and distribution rights for Essential Media & Entertainment's television adaption The Broken Shore for ABC in Australia.
Tricon Film & Television sold nine of its productions, with Argentina's HSM's ManagemenTV picked up rights to seasons one through three of Green Force and South Africa's Home Channel acquired season one of Deck Wars.
Meanwhile, TVA's Casa Channel secured rights to House of Bryan, and Building Bryks was sold to France's Maison + and Sanoma TV's Liv Channel in Finland.
Decked Out (pictured) was snapped up by TVA's Canal Vie and Israel's Ananey Channels (season one), and South Africa's Home Channel nabbed rights for season two.
Marriage Under Construction sold to France's Maison +, with season 4 going to Sanoma TV's Liv Channel in Finland.
Rounding out the list are sales of the food series Bitchin Kitchin' (season one) and Fresh with Anna Olson (seasons one through three) to France's Cuisine+ and New Zealand's Living Channel, respectively.
Malaysia's LI TV VOD was a major customer, purchasing rights to Family Renovation, Building Family, Deck Wars, Building Bryks, Decked Out and House of Bryan.
Continuing the list of successful international sales are D360 Distribution, who sold rights for Splatalot to Dutch public broadcaster Tros' Z@pp Channel, and Picture Box's Summer House, which was picked up by French Canada's TVA, Korea's LiTV and Home Story, and Spain's Mediaset.
DHX's Rastamouse series was acquired by BBC Worldwide Channels for its feeds in Hispanic U.S., Latin America and Africa, with distributing agent White Fox licensing the series for Greece and Cyprus, where its second season will air on ERT3.
Elsewhere, CCI Entertainment's Irish co-production, Joe & Jack completed successful sales to nine territories, including ABC Australia, France's Canal + (Piwi +), the Netherland's NPO, Portugal's RTP, Telequebec, Knowledge Network and BBC Kids Canada, New Zealand's TVNZ and Korea's Hi Tel.
The series will also air on Disney Junior in Latin America.