Inside the WGC Awards with nominee Patrick Tarr
The screenwriter, who is nominated in the shorts and web series category for the Murdoch Mysteries: The Curse of the Lost Pharaohs ep "The Vanished Corpse," talks to Playback about his craft and the future of screenwriting.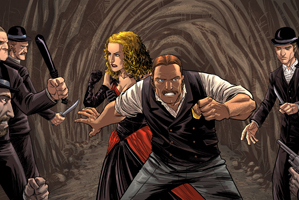 Leading up to the Writers Guild of Canada Screenwriting Awards on April 23, Playback will catch up with some of the nominated writers to talk about their craft and what's up next.

Patrick Tarr is a screenwriter whose writing credits to date  include mystery series Murdoch Mysteries: The Curse of the Lost Pharaoh (pictured), the cop drama King, and the upcoming feature The Colony.
Here Tarr, who is nominated for a Writers Guild of Canada Screenwriting Award in the shorts and web series category for the Murdoch Mysteries: The Curse of the Lost Pharaohs episode "The Vanished Corpse" talks to Playback about his nominated script and the future of screenwriting.
PB: What does your WGC nomination mean for you?
PT: It's been a pretty crazy year for me, and it's just really exciting. It's really nice to be nominated for something by other writers, so that means a lot to me. It was a lot of work to make this happen, so it's really great to see it honoured this way.
PB: How did you approach the writing process for the script?
PT: I had spent some time in the writer's room with the series writer. So I really got immersed in the process of the show, the characters and how everything works. When Shaftesbury and Smoke Bomb approached me, they had the concept in place, which was a pretty great place to start. I felt like half the work was done for me.
I spoke with Cal Coons who directed the episode and Jay Bennett from Smokebomb, and we decided to do something really fantastical and a lot campier than the show [normally features], something inspired by movie serials and comic books. Once that came together the script sort of wrote itself.
It was really easy and fun, and writing isn't always that way for me.
PB: How, if at all, was this script a departure from your comfort zone?
PT: With the combination of the time period, the tone and working from the TV show that exists and the novels that the show is based on, I knew that I could only stray so far from what had already been established.
In some ways, that created some boundaries. But because some of the series is illustrated, that was really liberating. While there wasn't a ton of money to do it and we were limited to the standing sets of the show, I was able to create these moments that I could never create in any movie. So I was able to go to some really fun places because we weren't bound by the usual rules of film-making.
PB: Murdoch Mysteries is now a multi-platform show. As transmedia continues to grow in popularity, is a multi-platform approach something screenwriters need to be considering more?
PT: I think so. The WGC hosted a panel on this very subject, where they had Maureen Jennings, the writer of the novels, Alexandra Zarowny, who was one of the developers of the show, and me.
I think it's all converging. The platforms are all becoming one. So I have no idea what that's going to look like 10 years from now, but for me, it was just really interesting to take on a new form and approach storytelling in a different kind of structure.
PB: How do you think recent government cutbacks will affect your ability to do or get work?
PT: Cuts are never good, but it's hard to say how they're going to effect anybody. Certainly, at the CBC, a lot of people are already losing their jobs. But as far as the long-term industry ramifications, it's really hard to say.
PB: What have you got in the works?
PT: I have a feature, The Colony, that I co-wrote, which just finished shooting last week. I also just finished working on season two of King. It's been such a busy year and there are so many projects that I've had on my backburners, so I'm just really excited to be able to start writing my own ideas again.
PB: How do you plan to celebrate if you win?
PT: Public speaking is not one of my favourite things. Once I get over that, I have a few friends there so I'll have a drink. It's funny because one of the other nominees in this category is the president of the WGC, so if I do win, I might have to just get out of there.