Canadians make strong showing on Cannes festival lineup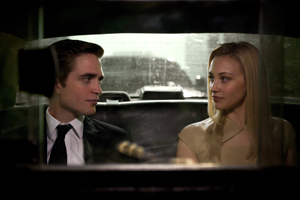 The Cannes Film Festival today revealed its big lineup, which features a strong contingent of Canadian films and talent.
Competing for the Palme d'Or will be Cosmopolis (pictured), director David Cronenberg's sexually charged thriller, which stars Jay Baruchel and Twilight star Robert Pattinson.
In the Canadian, French, Portuguese and Italian co-production, a billionaire asset manager travels across Manhattan in his limo to get a simple haircut. Soon, however, he finds his world being torn apart by a seedy cast of characters.
Canadians are also well-represented in the Un Certain Regard category.
Brandon Cronenberg, David's son, will make his directorial debut with the world premiere of the sci-fi drama Antiviral, which stars Canadian Sarah Gadon (who also appears in Cosmopolis) and Malcolm McDowell.
In Antiviral, a film from Alliance Pictures, Caleb Landry Jones plays a clinic employee who illegally sells injections of live viruses from sick celebrities to obsessed fans.
But when he himself becomes infected with a virus that killed celebrity Hannah Geist, it's a race against the clock to unravel the mystery surrounding her death before he suffers the same fate.
Brandon Cronenberg is eligible for the Camera d'Or award.
Also competing in the Un Certain Regard category is Quebec-based Xavier Dolan's romantic drama Laurence Anyways, starring Melvil Poupaud and Nathalie Baye.
The Canada-France co-production tells the story of the impossible love between a man and a woman after the man has a sex change.
The film, which marks Dolan's second time in the program and third time at Cannes despite being only 23, has been touted early on as a serious Palme contender.
And as previously reported, Quebec filmmaker Chloe Robichaud rounds out the list of Canadian talent represented in the south of France, with the drama Herd Leader, a 13-minute short that features Eve Duranceau, Genevieve Boivin-Roussy, Jean-Sébastien Courchesne and Richard Fréchette.
The film, about a solitary young woman whose life changes after she inherits her dead aunt's pet, will compete for a Short Film Palme d'Or.
The Cannes Film Festival is to run from May 16 to 27.