Is Little Mosque on the Prairie headed to America?
WestWind Pictures' Mary Darling and Clark Donnelly talk to Playback about teaming up with U.S. distributor PPI Releasing, and why the time is right for the show to hit the States.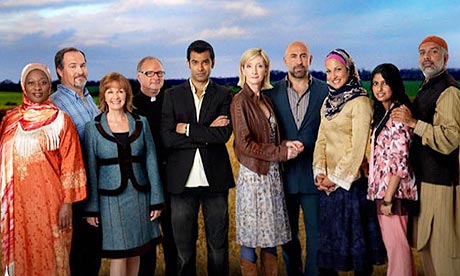 After six seasons and 91 episodes on the CBC, Mary Darling believes the time is ripe for Little Mosque on the Prairie to be broadcast to Americans in a post 9/11 era.
So Darling, executive producer of Little Mosque at indie producer WestWind Pictures, has teamed up with U.S. indie distributor PPI Releasing to shop a Canadian series about a minority still shrouded in suspicion and mystery south of the border to American broadcasters.
"Personally, I think it's a good time to hit U.S. broadcasters because we can see that not a lot has changed in the verbal minority around Islam in the States," says the U.S.-born Darling of her short-term agreement with PPI Releasing.
"There is still a foundational misunderstanding about an entire population, instead of looking at people as individuals. That to me seems like the ripest territory in the world," she tells Playback Daily.
WestWind president and exec producer Clark Donnelly, Darling's business partner and husband, insists Little Mosque always aimed to represent Canada's Muslim culture without being preachy or promoting stereotypes.
Donnelly compares Little Mosque's cast of Canadian Muslim characters with the single Muslim character on the CW's Aliens in America.
"It was difficult [for Aliens in America] because this one character who was Muslim had to represent the whole religion, so he had to be perfect," he says.
While the debut of Little Mosque in 2007 on the CBC was initially greeted with a lot of head-scratching, and international media attention, the series was quickly embraced by Canadians as a gentle comedy about a fish-out-of-water Prairie community.
"We have this advantage – we've got all these characters who are Muslim, but they show, to some extent, the diversity within that huge community," he explains, adding that the religious continuum of Muslim and Anglican characters only fuelled the comedy.
Despite Little Mosque being viewed by audiences in 92 countries, U.S. broadcasters have not yet seen through to the comedy in the CBC show.
Lingering fear and preconceptions about Muslims remain after 9/11 in the U.S., and Darling and Donnelly say that they expected hesitation, underlined by the recent backlash experienced by TLC show All-American Muslim.
All-American Muslim followed the lives of five Muslim-American families in the daily lives.
Roughly 65 companies removed their advertising from the series, urged on by the Florida Family Association.
The show was eventually cancelled after one season, as TLC cited low ratings.
"I wouldn't call it a resistance so much as I would call it an idea of what their audience can take," says Darling, of getting Little Mosque into the U.S. amid the current climate.
"We were really intrigued with All-American Muslim, with [the strong reactions at] the very simple idea of portraying Muslims on television. In a sense, we knew that would be the response, but we've never looked at that as a negative response – the fact that you've got people talking about a show is really important to us, and I think that speaks to the reason we made the show," she explains.
Darling adds that portraying the religious differences between the Anglican and Muslim characters on Little Mosque meant navigating some murky waters.
"We were really interested in seeing those religions shoved together and sharing a space, and we get close [to addressing religious differences head-on] in a couple of episodes. We had to stay out of the territory of being dry and didactic and preachy," Darling says.
PPI first approached WestWind about a deal for Little Mosque after the launch of season two.
With the show now wrapping, Darling says the strategy is to offer up a package to U.S. broadcasters, instead of season by season.
Donnelly adds that PPI "really got the show" and he's confident the distributor will ably pitch it in Los Angeles and at MIPTV next week to tap the U.K. market.
With files from Etan Vlessing