Exclusive: Avi Federgreen launches River Valley Films in Alberta
The veteran film producer and distributor has pacted with Edmonton-based producer Guy Lavallee to tap local talent to make Alberta films.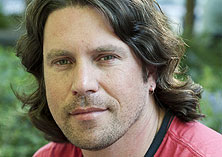 Veteran film producer and distributor Avi Federgreen will be doing more than returning home to Edmonton this weekend to show off his latest film release, Sean Cisterna's Moon Point.
Federgreen  (One Week, Dead Before Dawn) is launching a new Alberta-based film producer.
He's pacting with Edmonton-based film producer and festival programmer Guy Lavallee to operate River Valley Films, with an eye to tapping local writers, directors, actors and crews to bolster local film production.
Federgreen's has good timing: the city of Edmonton and Los Angeles-based Kilburn Media have just unveiled a new $10 million Edmonton Filmed Entertainment Fund, an equity investment fund for pre-sold film projects.
But the Toronto-based film producer and distributor insists he has looked to make films in Edmonton for five years, adding his plans began to gel in September 2010 when his hometown hosted his release of Score: A Hockey Musical by Michael McGowan.
Having now decided to partner up with Lavallee, Federgreen's River Valley Films will take film pitches from local talent next Sunday at a Pitchfest.
"These talented people need to be given the opportunity to tell Canadian stories, but they are not given enough of an opportunity to make indigenous films," Federgreen insists.
"River Valley Films is a company that wants to change all that," he adds.