Picnicface to serve up an app
Breakthrough Entertainment's digital media director, Dorothy Vreeker, tells Playback how a mobile playground can generate revenue while growing the comedy troupe's fan base.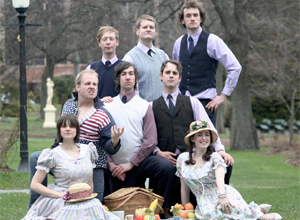 In its latest mainstream invasion, Picnicface is looking to turn your smartphone into a playground.
The Halifax sketch comedy troupe is set to roll out in August Picnicface Playground, an app for iOS mobile platforms that allows users to upload and place screen images of themselves and friends in a series of sketches with the eight members of the Picnicface cast.
"They have a huge online base – but the ability to actually insert yourself with them and create a sketch, I think, is going to have huge appeal. It's really all about the college crowd," Dorothy Vreeker, director of digital media at Breakthrough Entertainment, tells Playback Daily.
Toronto-based Breakthrough's digital arm will work with game creator Little Guy Games to develop the app, with funding from the OMDC's Interactive Digital Media Fund.
Vreeker says she got the sketch creator idea from looking at successful entertainment apps in the marketplace like FatBooth and Pocket God.
"I thought it was just an amazing idea to do a sketch creator. [The most successful entertainment apps] are those self-generated apps," she explains.
Vreeker said Picnicface's unique brand of comedy was a natural for a self-generated content app.
Users will choose from varied environments, costumes, props, abilities and voiceovers, mash them together and post stills of the sketches to Facebook.
"It's a sandbox style of gameplay, so every time you go back there, no matter how you combine things, it will always be something different," Vreeker adds.
The Picnicface Playground app also aims to be a revenue generator for Breakthrough.
The app, available for free through the iTunes App Store, will feature an in-app purchase system inside the game that allows users to purchase coins to buy special costumes, more environments, props and super-abilities.
"There will be a lot of people who will just play it for free, but the conversion rate we hope will be high enough that we can generate some money," says Vreeker.
That said, the more sketches users make and the more stills they post to Facebook, the more coins they will earn for playing.
"You want that kind of viral marketing built right in," Vreeker adds.
Picnicface has already infiltrated several media streams with its absurdist humour.
The eight-person collective, made up of Bill Wood, Evany Rosen, Mark Little, Brian Eldon Macquarrie, Kyle Dooley, Cheryl Hann, Scott Vrooman and Andrew Bush, jumped from YouTube to TV in September 2011, when the Comedy Network debuted 13 eps of the Picnicface sketch comedy series.
They'll have their big-screen debut with Roller Town, which is set for a Canadian release in summer 2012 via D Films.
The slapstick parody roller skating movie, directed by Andrew Bush, landed the opening gala slot at the Atlantic Film Festival in Halifax.
They also released the book, Picnicface's Canada, which examines Canadian culture and customs, last fall.
Picnicface's mock ad for the Powerthirst energy drink has racked up an avalanche of views on YouTube, and their sketches have been featured on comedy sites College Humor and Funny or Die.
Vreeker says they will market the app through the App Store's main page, and sites like Free App-A-Day.
But Breakthrough will also leverage the existing Picnicface fan base by using a video created by Picnicface specifically for the app, to be posted on the troupe's YouTube channel.
The user appeal of an app lies in creating another level of interaction for the Picnicface fan demo, says Vreeker, adding that bringing the brand to the mobile platform is a logical step.
"The demographic is there. Their fan base went up amazingly – even throughout the broadcast of their TV series. The more people that get to know them, the more people love them – it's just a great way of leveraging them onto another platform," she adds.