Playback Indie Survey profile: Quiet Revolution Pictures
Ottawa-based producer Michael Dobbin talks to Playback about making co-pros and building his business in the nation's capital.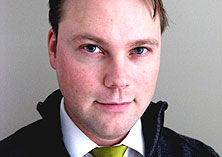 The Playback Independent Production Survey ranks Canadian production companies based on the volume of the Canadian film and TV production they handle in a calendar year. As part of our 2012 survey, covering business activity in 2011, we're profiling a selection of respondents on their year in 2011 and what's on tap for 2012.

Quiet Revolution Pictures producer and company director Michael Dobbin in 2011 took steps to live out his prodco's name.
Last year saw the completion of independent co-pros The Maiden Danced to Death and Eddie – The Sleepwalking Cannibal, both of which were recently selected for Fantasporto, Portugal's largest film festival, among other fests on the circuit.
Dobbin says Maiden, a co-pro between Canada, Hungary and Slovenia, hit a political nerve and was met with criticism upon its release in Hungary, due to the film's portrayal of clashing post-Cold War political ideologies, as told through the reunion of two estranged brothers. The film, distributed by ID Communications, has nonetheless since been invited to 16 festivals in 12 countries.
Dobbin says being headquartered in Ottawa has allowed for lower costs, and greater opportunities to make films like Eddie, which he calls "a little independent Canadian film with a Canadian story that the world seems to want.
Here, Dobbin tells Playback about keeping Canadian content in the forefront of co-productions, and why his business model works.
PB: Tell us about the year Quiet Revolution Pictures had in 2011: did you achieve the benchmarks for your business that you aimed for?  
MD: I think we did. We went into production on Eddie – The Sleepwalking Cannibal, which was actually finished the same year. We brought The Maiden Danced to Death to launch in August in Montreal. And we have a few more projects in the pipeline that have been moving.
PB: What were some of the highlights? Challenges?
MD: Getting a film like The Maiden Danced to Death out to audiences was pretty exciting. It's been a long time in the making, and it's quite a unique and unusual and exciting project.
I met the director (Endre Hules) in 2008; he had the project for much longer than I had, he'd been with the project for about 10 years. It only took three years from the time we got involved, but it was very complicated in getting all the different financiers and production schedules to come together in three different countries. I think that was the biggest challenge.
PB: How did you get it to work?
MD: It was a good sense of cooperation with all of the producers who believed in the project, and who were willing to bend over backwards to make sure that it came together.
The biggest challenge with that particular film was that a few months before we started shooting, there was an election in Hungary. So that new government came in, and, I believe, went on a bit of a witch hunt to punish anyone who had been on good terms with the previous government, who included my unfortunate co-producer, who had a [portion] of his funding revoked while the film was being shot [The Hungarian Film Fund was restructured in 2010 under Viktor Orban]. Fortunately my co-producer was resilient and still able to deliver the project, at a pretty emotional and political expense to himself. So it's quite a triumph in that sense that the film was able to be completed, when the country's own government was basically trying to shut it down.
Equally, the film has been quite controversial in Hungary. It really pitched the Hungarian diaspora against the homeland, and a lot of the themes that are within in the film are played out in life, it's literally art imitating life. It's been exceptionally well-received, so when I take a snapshot back to where we were in production, how complicated it was, it's really quite amazing.
PB: You have said that your business model as a "hard edge" – can you explain this?

MD: That business model has a lot to do with where we're based – the capital region. I think I'm one of very few, if not the only, producer [in the area] focused exclusively on feature film [with no service work]. All of the content we produce, we are either co-producing, or producing; we own the copyright or part of the copyright, and I think that's an important distinction.
What makes Ottawa a particularly good place to do what we do, just generally, I think costs are lower for producing, we do have very talented crew and great infrastructure here that is growing and expanding every year, so the city's actually able to handle more and more production.
It also means we have one foot in Ontario and one in Quebec , [so] we can be quite dynamic in how we structure our productions, and really take the best advantages of what available financing there is. Keeping costs low and having more access to more financing is a good combination.
I think if I were doing what I'm doing somewhere like Toronto or Montreal, our output would be far less because we'd have to find more money for fewer projects. And I think that allows us to diversify our slate, and we can produce more titles.
PB: What are some of your objectives as a company in 2012? Are there any areas you hope to grow or expand in?
MD: Our hopes were that we'd, within our first five years, start to do two to three features a year, and bring that up to five. And just with the economic climate, internationally, we'll stick to a smaller slate than we would have liked, but I don't think we're special there; I think a lot of producers are having to pick their projects with what resources they have. But we do have two, possibly three projects that can go to camera this year.
The bottom line we've always been trying to follow is to create real, genuine Canadian content – not Canadian content for Cancon's sake, but the fact that it's not trying to be something else. With The Maiden Danced to Death, originally, the script was set in Budapest and New York City. And I convinced [Hules], if we're going to shoot in Canada, why don't set set it in Canada? So the story's actually set in Montreal and Budapest.
I like fighting that pattern that Canadians have, that we have a quiet insecurity that people don't really care about us or what our stories are. I think a universal story will travel, and that seems to be the case [with these films so far], and I hope it continues.