Anne Emond's Nuit #1 to receive Claude Jutra Award
The tribute from the Academy of Canadian Cinema & Television continues the dominance of Canada's film awards by Quebecois directors.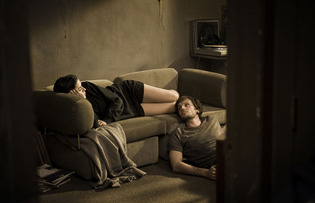 Quebec film's dominance of the Genies continued Wednesday with the Academy of Canadian Cinema & Television announcing it will give this year's Claude Jutra Award to Anne Émond's Nuit #1.
The special Genie Award, which honours a first-time feature filmmaker, goes to Émond's relationship drama after its world premiere at the Toronto International Film Festival.
Last year's Claude Jutra trophy went to Jephté Bastien's Sortie 67, while Xavier Dolan took the 2010 honour for J'ai Tue Ma Mere.
Nuit #1 is also in the running for two Genies at the March 8 competition in Toronto for best original screenplay for Émond and a best actress nomination for Catherine De Léan.
Nuit #1 also stars Dimitri Storoge opposite De Léan as two people who meet at a rave and go back to an apartment for a one-night stand.
Away from the Claude Jutra prize, the Genies in recent years have been dominated by Quebecois films, courtesy of Denis Villeneuve's Polytechnique and Incendies.
This year's Genies field is led by Jean-Marc Vallée's Café de Flore, which snagged 13 nominations.
Close behind is David Cronenberg's A Dangerous Method with 11 nominations, and Philippe Falardeau's Monsieur Lazhar with nine nods.