Is Ontario up to servicing a return to good times in production?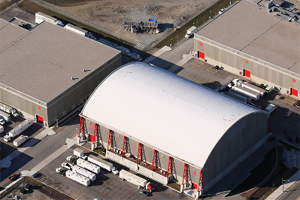 The good news is the much-vaunted vision of Ontario and its film and TV infrastructure hosting big-budget, FX-heavy Hollywood shoots on state-of-the-art soundstages has arrived.
But Toronto in full swing has soundstage operators and production equipment suppliers scrambling to supply necessary equipment and services so that the boom doesn't become a burden for Canadian and foreign producers shooting locally.
It's a big challenge, but Paul Bronfman, Canada's biggest production equipment supplier at William F. White International, for the first time in some years has few complaints.
"If we're able to service Guillermo (del Toro) and the production services and film studios, it tests our abilities to the max," Bronfman tells Playback Daily about rebounding fortunes for Ontario after it introduced a 25% all-spend tax credit.
He's referring to del Toro's mega-monster film Still Seas shooting in Toronto, which followed the big-budget Total Recall remake being lensed here.
Del Toro's most ambitious, and biggest project to date is taking up all the stages at Pinewood Toronto Studios.
So WFW is working full tilt to service Still Seas with the latest production gear.
But local studios and equipment suppliers also need to service the slew of other foreign and Canadian productions before the camera locally, each of which has a director like del Toro that wants the latest production gear and services delivered to their set.
"People demand even without Total Recall and Still Seas that they also get the latest, most up-to-date technology," Bronfman explains.
These are problems any production market wants, but which demand solutions.
For example, Pinewood Toronto Studios has eight soundstages it manages that will go dark when del Toro and his crew end production in late April, and which will need replacement shoots.
Bronfman, who was hosting the pre-NAB February Freeze showcase in Toronto Wednesday, is quick to add that Pinewood has had lots of enquiries and is eyeing TV series after the pilot season as replacement tenants.
"Now that Toronto is online and we have Pinewood, we're on the map," he insists.
During the February Freeze showcase, top manufacturers like Kino Flo, Panasonic and Gerr Audio display their newest and hottest gear to local sound, lighting or video technicians.
The chatter touches on whether you can get this or that camera head onto a new crane, tips and tricks for steadicam operators, or giant lighting lamps with dimmer switches or lighting for blue screens.
That bustle of activity has Bronfman smiling, as Ontario's production sector bounces back to boom times.
"It tests us. It makes us raise our game," he insists.