Playback Indie Survey profile: Aircraft Pictures
Co-presidents Anthony Leo and Andrew Rosen talk to Playback about online content creation, company growth and more pure evil for 2012.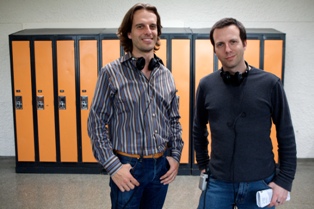 The Playback Independent Production Survey ranks Canadian production companies based on the volume of the Canadian film and TV production they handle in a calendar year. To launch our 2012 survey, covering business activity in 2011, we're profiling a selection of respondents on their year in 2011 and what's on tap for 2012. Today, we profile 2011 Ten to Watch nominees Aircraft Pictures.

Tell us about the year Aircraft Pictures had in 2011: did you achieve the benchmarks for your business that you aimed for?
AL: Absolutely. I'd say we exceeded them, probably. It was a year that saw us produce the second seasons of both Todd and the Book of Pure Evil with Frantic Films and Corvid Pictures, and What's Up! Warthogs for Family Channel. And we also produced two feature films in Calgary, Alberta with Corkscrew Media – so it was a pretty full year for us.
What were some of the highlights? Challenges?
AR: We feel this is our year where we're growing from a small company, which was two people, into three people now. We're getting more capacity and we need to figure out what our growth strategy is for the year to really make sure we're giving our best to all the productions that we have.
AL: Definitely part of it is adding infrastructure in the form of staff. We're looking at bringing on a couple more people into our operation, and getting focused as far as specific roles within the company, which is another big part of that.
A highlight would have been Todd winning the Gemini for best comedy ensemble for sure. We have an outstanding cast and it was really exciting for us, because obviously we had a part in putting together that cast, and so it was great to have that recognition for their work.
And Todd fans are really involved with the show – they play the games, they tweet…
AL:  It's been an amazing experience with the Todd fans. They're along for every step of our ride, and they are just getting more and more into it as it airs.
AR: We've really seen an uptick in activity, like in our social media. We're starting to see that swell happening that we've been told about, like some of the [social media] experts said at the beginning, "First you'll become a secret cult hit, then people will start talking about it, then all of a sudden…" We're looking at all our graphs – we're studying this thing – and all our graphs are showing a surge upward, it's very exciting. And then we're just about to premiere the second season of Todd in the States, so we're capitalizing on that momentum.
AR: With What's Up! Warthogs also, we've seen really good numbers. Last year when the first season aired, we were just seeing it break into the top 20, so for a small little show that could, we're feeling that we're starting to compete with the Disneys and other shows [from studios] like that.
AL: Online it's been a great hit – it was created as a web/television series, whereby it airs on television as a traditional half-hour and it also airs in parts online on Family.ca. When it premiered, Warthogs was the most-watched page behind the homepage, surpassing even the Disney shows that they have online, so [we're] definitely really happy with it.
Do you think having that online presence is a necessary component to create something successful? Do you think that's something you'll look at with all of your projects in the future?
AL: Absolutely. I think, when you're a fan of a TV show, I'd like to say the first thing you do if you're going to try and find it online is check out if it has a Facebook page, and if you can create a compelling reason for them to "Like" that page and keep coming back to it, which we have – we've created entire spinoff, behind-the-scenes web series that just exist on our Facebook page and Youtube. And it's huge. People have really gravitated towards it. It's not enough to have a Facebook page; you have to have reasons for them to come back to it.
AR: We also think of ourselves like content creators because we just want people to see things wherever they can, and also wherever it fits for them. Not everything's built to watch on your cell phone, but at the same time, you can have certain content [on mobile] that works better than it would on TV because of interactivity. So we just want to make sure all our projects have a lot of facets for people to enjoy.
What are some of your objectives as a company in 2012? Are there any areas you hope to grow or expand in?
AR: We're definitely looking to continue with more seasons of our television shows. We're developing more television shows and features. Also, we're very interested in getting into the digital space – we're looking at web series and other types of extensions like that.
And 2012 will see our company grow in its infrastructure. We can't sustain this at the levels we want to with just three people in the company, and that's what we're excited about – to see what the next phase of Aircraft Pictures looks like.