Harold Greenberg Fund helps market Canadians at Slamdance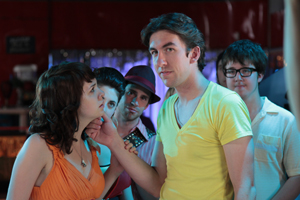 The producers of the Canadian indie films Roller Town and Comforting Skin are the latest to tap Astral Media's Harold Greenberg Fund's newly launched marketing program.
Both Canadian movies attended the recent Slamdance Film Festival with Fund coin to improve their launch pad opportunities in Park City.
"Hopefully, through promotion and getting people out to screenings, they can either land further festival invitations, a distributor or get their name out there as filmmakers," the Fund's English-language program president John Galway tells Playback Daily.
Roller Town previously tapped the Fund's equity investment program for writer/director Andrew Bush's first feature that stars Halifax's Picnicface comedy group.
So Roller Town producer Bill Niven reached out to the Fund once again, after the theatrical comedy about a roller skating-obsessed town being over-run by video game shilling gangsters received a Slamdance invitation.
And the Fund put first-time support behind Comforting Skin, a debut feature from writer/director Derek Frankson and producers Justin James and Andrew Webster to help get the low-budget indie drama into contention among film buyers at the U.S. festival.
The Fund's marketing program at the recent Toronto International Film Festival also gave marketing dollars to another four indie titles, Amy George, Doppelganger Paul, The Odds and I'm Yours, which was the lone film to receive previous Fund support.
"All of these films represent young, interesting new voices," Galway said of the decision to back their commercial ambitions via the festival circuit.
The Fund's marketing program is part of around $200,000 invested each year through its Industry Initiatives program.