TVO, TVA and Nick Jr. dig up more Dino Dan
The nets have ordered up an additional 52 11-min eps of the live-action and CGI series from Toronto's Sinking Ship Entertainment, which is expanding to accommodate the work.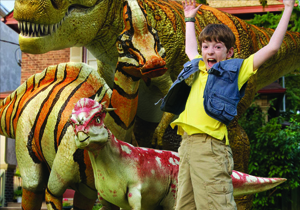 Kids TV series Dino Dan, from Toronto-based Sinking Ship Entertainment has been renewed for a second season.
TVO, TVA and Nick Jr. in the U.S. have ordered up an additional 52 11-minute episodes of the show, which combines live-action with CGI.
Sinking Ship also announced Wednesday that it will open its own in-house CG animation division to handle the special effects shots – more than 2700, according to a statement from the prodco – for the second season.
Production for the second season is slated to begin in March, with Canadian airdates set for fall 2012.
A Dino Dan-themed app, a second DVD, and mass-market toys are also set to launch in March.
The Dino Defence app, from Sinking Ship Interactive, will be available on iTunes, and will complement the show's online interactive playground, DinoDan.com, where users play games and dig up bones and other artifiacts at a Dig Site using tools like a magnifying glass, shovel and sifter while learning about the dinos they're unearthing. The site launched in Canada in November 2010 on TVOKids.com and has seen 1.3 million unique visitors.
The second Dino Dan DVD will be released by NCircle, and the first mass-market toy launch will feature seven dinosaurs. Licensing for Dino Dan is managed by The Licensing Shop.
The first season of Dino Dan has been sold into more than 100 countries through distribution partner Breakthrough Enteratinment. The show follows Dan Henderson, whose dinosaur obsession sees him constantly uncovering prehistoric clues, and using his vivid imagination to bring the dinos to life.
The series, commissioned by TVO, premiered in 2009 on the network, and in 2010 debuted on Nick Jr. in the U.S. and Nickelodeon Australia. Dino Dan also aired on Alberta's ACCESS, The Knowledge Network in BC, and Saskatchewan's SCN.
Dino Dan is created and directed by J. J. Johnson.