Lionsgate acquires Summit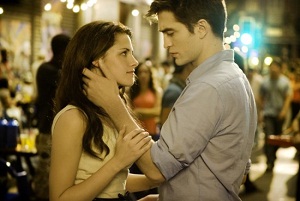 It's official: Lionsgate has bought Summit Entertainment, the Twilight studio, as part of a cash and stock valued at $412.5 million.
That takeover gets the Canadian indie studio a large step closer to establishing itself as an even bigger player in Hollywood and in the global business.
The long-rumoured deal makes Vancouver-based Lionsgate a larger indie studio with an expanding TV production arm and a movie production division likely to secure more distribution clout with the major studios in Los Angeles.
By acquiring Summit, Lionsgate expands its 13,000 title film library to include The Twilight Saga, The Hurt Locker, Red and other Hollywood titles.
The takeover deal also combines Summit's Twilight Saga feature film franchise, which has grossed around $2.5 billion at the worldwide box office to date, but is running out of steam, with Lionsgate's upcoming Hunger Games franchise, which kicks off on March 23, 2012 and could become a major money-spinner if it connects with global audiences.
"This transaction continues Lionsgate's long-term growth strategy of building a diversified worldwide media company through a combination of disciplined, accretive strategic acquisitions and organic growth while maintaining a solid balance sheet," Lionsgate co-chairman and CEO Jon Feltheimer and vice chairman Michael Burns said Friday in a joint statement.
The combination also appears to be as good as time as any for Summit's co-founders Rob Friedman and Patrick Wachsberger to enjoy a major payday.
Their future with the combined entity is not discussed in the press release issued Friday by Lionsgate and Summit.
"We want to thank our employees, whose hard work and creativity have led to the successful evolution of Summit into a leading worldwide studio, and the combination of Lionsgate and Summit will be the next chapter in creating a true global media powerhouse," Friedman and Wachsberger, the Summit co-chairs, said in their own statement Friday.
In March 2011, Friedman and Wachsberger and some of their major studio investors like Participant Media, Nala Films and private equity fund Rizvi Traverse Management enjoyed an initial payout when Summit completed a $750 million financing deal, which included a term loan and a $200 million revolving line of credit .
Lionsgate is largely using cash on the Summit balance sheet to complete the acquisition, with the remainder coming in part from around $55 million of existing Lionsgate cash and another $45 million of cash received from a newly issued series of Lionsgate convertible notes.
Lionsgate is also using $50 million of common stock and an additional $20 million of cash or stock to be issued at Lionsgate's option within 60 days.
At closing, Summit's existing term loan will be refinanced with a $500 million debt facility, secured by the collateral of the Summit studio.
The takeover of Summit has been welcomed by analysts in recent weeks as the two indie studios got down to exclusive negotiations.
Though headquartered in Vancouver, Lionsgate is largely run out of Santa Monica, as is Summit.
So a merger of the two studios is expected to lead to layoffs.
"Both the Lionsgate and Summit labels are expected to continue and be active in the production and distribution of films, although the combined company expects to realize significant synergies through the consolidation of administrative and other costs," Lionsgate said in a statement Friday.
Lionsgate, which launched in 1997, has built itself up through acquisitions of major film libraries, including Trimark, Artisan, Redbus, Debmar-Mercury and Mandate, and on the TV side with the TV Guide Network and TV Guide assets.
The takeover also has implications for Entertainment One, which distributes Summit product in Canada and elsewhere internationally via a supply agreement.