Best of the Year: Sportsnet
Playback marks Rogers Media's major expansion of the Sportsnet brand this year by taking a trip through a day in the life of a cross-platform story.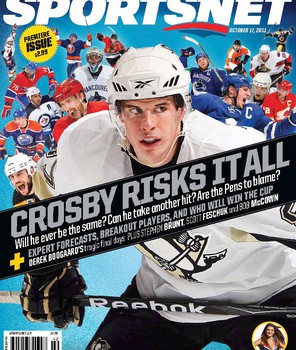 In the heated arena of Canadian sports media, Rogers Media's Sportsnet called some bold plays in 2011.
Transforming from a scattered group of media assets into a glossy cross-platform media brand, the Rogers Media division is betting that bigger is better in today's fractured new media universe.
Now crossing five platforms —TV, radio, print, digital and mobile — to better preview, broadcast and recap sporting events, Sportsnet's new mandate is to be available to its fans wherever and whenever they want it, says Dale Hooper, SVP of sales and marketing at Rogers Media.
"For us, it's about the sport fans, whether hardcore fans or casual fans, we need to get them up to speed," he quips.
To achieve this, the brand has built an expanded team and created new internal infrastructure to meet the requirements of trafficking such a high amount of information to Canadians every day. It's an effort easier said than done in a company looking to encourage multiplatform programming and production among media platforms that previously operated as silos.
Success at Sportsnet means getting to its audience early with scoops catapulted across multiple media channels, creating a one-stop shop for sports fans and brand marketers, and maxing out its mediums to execute narrative blockbusters, such as the NHL Trade Day, to move audiences from one media platform to another and then back again. Approaching stories in a manner unique to the medium is key to the strategy.
As an example, the recently launched bi-weekly Sportsnet magazine sent writer Brett Popplewell to New York and Minneapolis to talk to friends of the late NHL enforcer Derek Boogaard to piece together his final days four months after his untimely death at age 28 for an in-depth feature that wouldn't be possible on Sportsnet's other channels.
"We complete the package," says Steve Maich, publisher and editor-in-chief of Sportsnet magazine, of the detailed, character-arc driven stories that follow Sportsnet's live event coverage, online blogging and columns, radio and talk shows that aim to connect with Canadian sport fans.
Of course, the sizable investment in the brand expansion means that Rogers Media has had to take a fresh look at its sales strategy too. The mediaco recently hired away former CBC director of marketing Jamie Michaels — who stick-handled many a brand integration at the pubcaster — and is crafting sales decks with cross-platform value-add for clients.
"We're working with sales leaders to enable advertisers to move easily between audiences with cross-platform ad campaigns," says Hooper, who brings consumer packaged goods experience from his previous role as marketing VP at PepsiCo, adding that the goal is not selling ads across all five Sportsnet platforms, but finding cross-platform solutions. "Ideas are what people are looking for. You can't force brands on platforms."
Here, Sportsnet takes Playback through a typical day in the cross-platform media world.
RADIO
It's 8:15 a.m. and Greg Brady, one half of Sportsnet 590 The Fan's Brady & Lang in the Morning radio show, sticks his head out of the radio booth door during a commercial break to tell morning producer Dan Deeley he has a scoop.
"Eric Lindros just told us he's playing at this year's NHL alumni game at the Winter Classic. Can we send a sound clip to the web guys at Sportsnet?" Brady asks.
A big grin crosses Deeley's face as he picks up the phone while Brady returns to his microphone.
And so the story starts at Sportsnet: Eric Lindros is playing in the 2012 Winter Classic alumni game in Philadelphia on Dec. 31, 2011.
Brady & Lang being simulcast on Sportsnet One is just the start — now it's up to Sportsnet.ca and the other Sportsnet platforms to build out the "Lindros in Philly again" story to cement the sports media brand's reputation as a news-breaker.
ONLINE
It's mid-morning, and Sportsnet.ca Fantasy Hockey writer Chris Nichols has led his column with Lindros reuniting the "Legion of Doom" line at the Winter Classic game.
"Rumblings about Lindros' return had appeared for weeks, but Lindros officially confirmed the rumours himself on Wednesday morning on Sportsnet 590 The Fan radio in Toronto," Nichols wrote, underlining Sportsnet.ca as a collecting point for news generated across Sportsnet's TV, radio, print and online platforms.
In addition, Sportsnet.ca on its NHL page soon streams Brady & Lang's Eric Lindros interview, under the headline "Reuniting the 'Legion of Doom.'"
The way Marc Dinsdale, director and general manager of Rogers Digital Media, Sports, puts it, Nichols and Sportsnet.ca just helped close the circle of cross-platform news and collaboration at Sportsnet.
"We have five platforms. That creates a compelling opportunity to dominate the 24-hour news cycle," he says.
TV
It's late morning, and Sportsnet VP of news and information programming Scott Woodgate is in his office, figuring out how to feed the beast with the wealth of talent he now has on speed-dial.
"Given the effort to bring in these people, it would be fool-hardy to keep them on one platform," Woodgate says of recent high-profile Sportsnet hires like baseball insider Shi Davidi, Stephen Brunt, Jeff Marek, Scott Morrison, Christine Simpson, Damien Cox, Gregg Zaun and Michael Grange.
Woodgate needs the content. He has four regional Sportsnet specialty channels across five time zones, as well as Sportsnet One and Sportsnet World. to fill with content.
Sure, Sportsnet can expand and analyze on Hockey Central at noon and Sportsnet Connected at 6 p.m., but cross-platform programming calls for breaking news when it happens and on all platforms.
And that calls for coordination.
That happened in March 2011 when Citytv and Rogers Sportsnet hosted Crisis on Ice?, a TV debate on concussions in pro hockey that included Sportsnet's Daren Millard, CityNews anchor Gord Martineau, Hockey Central analysts Nick Kypreos and Damien Cox, and Sportsnet Radio FAN 590's Doug MacLean.
The TV debate was shot at Citytv, aired on Sportsnet, call-in shows followed on the Sportsnet The Fan radio stations and Sportsnet.ca conducted a live chat online.
"We want to be in on those discussions from the start. We have some incredible talent, and we want them to lend their expertise," Woodgate says.
PRINT
Publisher and editor-in-chief Steve Maich has just got out of a late-morning editorial meeting for Sportsnet magazine to explain his strategy to open Canadian sports fans' tear ducts.
Unlike Sportsnet's other four radio, TV, online and mobile platforms, the magazine can't rely on a fan's need to know the latest sport results for engagement.
It's about character-driven storytelling that makes an emotional connection with readers, and at the same time, encourages them to experience Sportsnet's other platforms.
It is days away from the Rogers Centre in Toronto hosting an NFL game between the Buffalo Bills and the Washington Redskins, so Sportsnet magazine is publishing a profile of Bills quarterback Ryan Fitzpatrick, an ambitious Harvard grad leading his once-laughingstock team to a possible playoff berth this season.
The goal is to create a Fitzpatrick profile filled with depth and detail to highlight "the drama as it plays out," Maich explains, highlighting the magazine's role in the cross-platform environment.