A Worthy Companion headed for CineMart in Rotterdam
The micro_scope-produced film, directed by Carlos and Jason Sanchez, is one of 36 projects vying for funding in Rotterdam's copro market Jan. 29 to Feb. 1, 2012.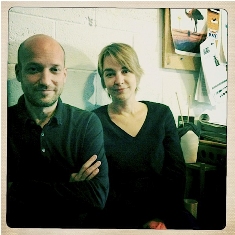 CineMart, the International Film Festival Rotterdam's coproduction market, has selected A Worthy Companion as one of 36 projects that will be presented to approximately 850 potential financiers in Rotterdam, Netherlands, between Jan. 29 and Feb. 1 2012.
Produced by Montreal-based micro_scope (partners Luc Dery and Kim McCraw, pictured) and directed by Carlos and Jason Sanchez, the film was selected for CineMart from 465 entries vying for funding.
Of the list, CineMart manager Jacobine van der Vloed had this to say:
"One of the starting points of the CineMart Selection 2012 was to focus, more than before, on the alliance between the IFFR, the Hubert Bals Fund and the CineMart. We have managed to do this: many filmmakers and producers get the unique opportunity to present their latest works in the festival programme and launch their projects at CineMart. Others, who saw their films screened at previous IFFR editions, now bring their new projects to CineMart. Some filmmakers return to CineMart a second or third time. In the end we have selected the projects that best tie in, on geographical, artistic and financial levels, with the need of the current market for independent filmmaking."
The move caps off a big year for micro_scope. The prodco has seen recent success with 2010 indie box office hit Incendies, and this year Monsieur Lazhar, which debuted at TIFF and was named Canada's Oscar entry for the 2012 foreign film category.
The full list of CineMart-selected films can be seen here.