Wingin' It flies to mobile
The mobile game for the Family Channel show is a spinoff of the Wingin' It online arcade game, available for iOs and Android devices.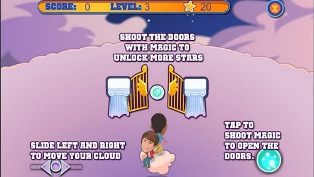 Temple Street Productions and Astral have launched a new mobile game for the popular Family Channel show Wingin' It.
The mobile version of Wingin' It Cloud Caster is a spinoff from the Wingin' It Cloud Coaster online arcade suite.
The game is free for download via a mobile-optimized app page through Family.ca and can be played on iOs or Android devices.
The game was created by Astral in association with Montreal-based Emerging Playgrounds and Temple Street Productions, and received funding from the Canada Media Fund.
The game design utilizes the touch screen capabilities of mobile devices for play, in the concept similar to the online game. Players fly on a cloud with Wingin' It main characters Porter and Carl, collect stars (or lose them if colliding with an obstacle) and open doors to different levels.
Todd Feaver, interactive producer at Family Channel, tells Playback Daily as kids go mobile, Family Channel is looking to be there alongside them.
"It's a space we want to be in, and we want to get there because we know that our kids are moving in that area," he says.
Feaver adds that the digital team has had success with the iPad mobile apps for Stella and Sam, which airs on Disney Junior.
According to Astral, the Wingin' It arcade suite has consistently placed within the top 10 games, of the games available online through Family.ca, based on average weekly page views since its launch, with some games in the suite ranking in the top five. In addition, the six-game suite has racked up more page views than any other single game on the site since the Arcade rollout in September.

Feaver says they have also developed an as-yet-unreleased version of the mobile game for the Kindle Fire – the new Amazon tablet and e-reading device that is not yet available in Canada.
In terms of making the game available across all other mobile devices, Feaver says it's important to keep an eye on the market and see which devices take the lead, particularly amongst their target demo.
"There is obviously a great variety of technology that's out there, and we can't support every single one, so we'll try to be where the kids are."