Best of the Year: micro_scope
The Montreal-based prodco talks about finding critical and commercial success with a strategy that balances serious subject matter with accessible storytelling.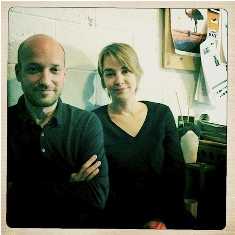 Every year, Playback selects a handful of the biggest newsmakers of the year to spotlight in our annual "Best of the Year" feature in our winter issue. Today, we continue with eight days of profiles from our winter issue, speaking with 2011′s headline makers, movers and shakers.
It would be understatement to say that Montreal-based micro_scope is on a roll right now.
In the last two years, the company has seen astonishing commercial and critical success, with 2010's indie box office hit Incendies and 2011's early critical darling Monsieur Lazhar, which debuted at TIFF and shortly after was named Canada's Oscar entry for the 2012 foreign film race.
With so much momentum behind them, even pinning down micro_scope co-founders Kim McCraw and Luc Déry, for an interview is a challenge — Playback had to connect with McCraw on set in Jordan, prepping Inch'Allah, another ambitious film with weighty subject matter.
Directed by Anaïs Barbeau-Lavalette, the film follows a young Canadian doctor working in a West Bank maternity ward as she is drawn ever deeper into the Israeli-Palestinian conflict. When McCraw and Déry read the script, they were hesitant to jump on board another complex international production in the Middle East.
"At first, Luc and I looked at each other and we said, 'Oh no! Let's not do another movie with all this difficulty,'" says McCraw. "But we thought, 'It's too important an issue not to talk about.' I do like movies that are really light, but I think we have to do movies that make people think, change their minds and understand different points of view."
Since 2002, Déry and McCraw have focused on developing scripts that pair serious topics with accessible storytelling, including Stéphane Lafleur's Continental, A Film Without Guns (2007), Philippe Falardeau's Congorama (2006) and C'est Pas Moi, Je Le Jure! (2008).
Last year the strategy paid off when Incendies — their first film with director Denis Villeneuve — became a critical and box office hit. It was the company's most ambitious film to date: the story took place over 30 years, required numerous extras and a budget of $6.8 million. It was also their first French coproduction, meaning key cast and creative leads had to come from France.
The film went on to gross north of $10 million globally, including $3.7 million in Quebec and $1 million in English Canada — a rare feat for a French-Canadian film.
"We knew the film had potential but we'd always thought the subject matter would limit its success," says Déry. "When we saw the reaction at the Venice Film Festival, we realized how people were affected [by it]."
This year, they followed Incendies with Falardeau's latest, Monsieur Lazhar, based on a play by Évelyne de la Chenelière about a teacher that steps into a classroom following a tragedy.
The film premiered at Locarno Film Festival in Switzerland where it won the audience award Prix Du Public UBS and the Variety Piazza Grande Award, voted on by critics. It then travelled to Toronto where it picked up Best Canadian Film honours and distribution in key markets, including Spain, Australia/New Zealand, France, Brazil and the U.S.
Shortly after, Telefilm Canada selected Lazhar as Canada's Best Foreign Film contender for the 2012 Academy Awards.  Déry says the film will likely open stateside in February.
"We're interested in doing artsy stuff but for us it's important that the film reaches an audience," he says of micro_scope's business strategy. "We want to make films that hopefully do well in Canada but it's important for us that they travel well and so we're looking for subject matter that we think will have a universal appeal."
After Inch'Allah, Déry and McCraw will concentrate on Villeneuve's next project, which will require a lot of VFX work and a budget approaching $10 million.
"It's quite ambitious," he says. "I can't talk about it yet. It's at the very beginning stages, but it's an anticipation film."
Going forward, Déry hopes to shoot two films per year and grow the company from a staff of five to six or seven.
"The success of Incendies opens doors in terms of international financing so we feel responsible to at least try going that route but, at the same time, we're quite happy with the way things are going now," he says. "We take our time developing scripts — that is really the key to our success."