Best of the Year: marblemedia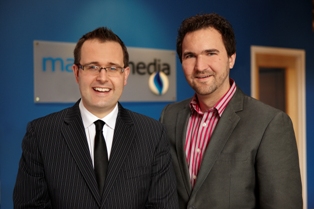 Every year, Playback selects a handful of the biggest newsmakers of the year to spotlight in our annual "Best of the Year" feature in our winter issue. Today, we kick off eight days of profiles from our winter issue, speaking with 2011′s headline makers, movers and shakers.
If you've been to a major Canadian TV industry event in the past 10 years, chances are you've been in the same room with at least one of marblemedia's two founding partners, Matt Hornburg and Mark Bishop.
As TV producers and early adopters of transmedia digital media executions — plus members of numerous industry organizations — the Toronto-based partners have been Canadian leaders in the field since they launched marblemedia a decade ago.
This September, they made the leap into primetime factual entertainment with the premiere of What's in a Name, a half-hour long series on History Television. In each episode, someone who needs to name something (a baby, a band, a car) gets help from celebrities such as race car driver Paul Tracy or George Wendt (Norm from Cheers) to find inspriration in other famous names from throughout history.
While the topic may seem at first somewhat pedestrian — albeit perfect for History — its execution was anything but. Marblemedia got the greenlight for the show in 2008, and launched the series with a web-first strategy in 2010. For a year, History and marblemedia compelled 65,000 Canadians to participate in building the show's content with a website, NameThis.ca, urging them to suggest names for things or things to name, and even building the show's name itself into the engagement strategy.
Production on the show was complex — the TV production team was reactive to the website's results — but the result has been one that Hornburg says is already exceeding History's expectations.
"It was a risk," he says. "But it was a risk that we took with History to ensure that it would be a different experience and it would actually grow something online. [The goal was that] when the show launched, you have these fans from coast to coast that are already engaged in the brand and already have ownership."
Hornburg and Bishop both say they feel What's in a Name is truly representative of the marblemedia brand — an entity that was born and lives independently online, stands alone as an entertaining TV property, extends to mobile and all ties together in a way that encourages multiple levels of engagement.
That kind of approach really sets marblemedia apart, says Interactive Ontario president Ian Kelso, who works with Bishop on the IO board.
"They started out with transmedia as part of their company's DNA," he says. "From day one they saw the opportunities that were online to get distribution for their properties and some of their first projects looked at alternative audiences that weren't being served, like the hearing impaired. So they went to where no one else was yet looking in terms of trying to find audiences and build communities in the online space and then were successfully able to marry that to what they were doing on television."
The kind of forward, ahead-of-the-curve gaze has led to success — one of their earliest properties, This is Daniel Cook, is an iconic Canadian kids show and has been sold into 90 countries — but also scrutiny. People are unafraid to press them, to question them: how is it you make money in this new-fangled realm?
"Sometimes we tend to almost get defensive when people ask 'What is the business model [around transmedia]?'" Hornburg says. "It's in its infant stages still, it really is. And I think there's been way too much pressure put on a very new and exciting opportunity for making money. We don't look to the Canadian film industry and go 'why are you not making money?' We don't. We continue to subsidize it and we continue to support it and I think there is a real business opportunity in transmedia or else we wouldn't be focusing on it.
"I think the big thing is that the fragmentation of audience is also the fragmentation of the business models," adds Bishop. "The same piece of content could end up being repurposed and repackaged in so many different ways that it becomes a full time job just to track it and figure out which the best area is to drive the revenue. In many cases it's multiple streams."
Transmedia — in its truest sense of telling stories in unique ways across multiple media — has really only begun to find traction in mass consumer culture. But with 10 years of persistence in the genre behind them, marblemedia are poised at the front of the mass-media transmedia pack.
Cross-platform interactive kids broadcast properties? Skatoony, Splatalot, Taste Buds, check. Serious-but-still-silly factual entertainment for adults? What's in a Name, check.
Slightly risqué, Gemini-winning adult animated primetime comedy with a complementary make-your-own-porno online game? The Dating Guy, check.  (Fun fact: The Dating Guy was inspired by Bishop and Hornburg's adventures in singledom.)
But as Hornburg sees it, marblemedia is just getting started.
"For the past 10 years, we've always been thinking that when the right content is on the right platform people will gravitate to it. So every brand, every project that we ever create, we are thinking 'Who is the target audience?' and 'How are we going to get the consumer to engage with the stories, characters and games on all platforms?'
"Is it complex? Absolutely. Is it distracting? Often. Is it an opportunity? Absolutely. And that's how we've been able to carve a very niche part of our business very, very quickly, to identify that there is a huge opportunity. It's a very exciting time and both of us feel that the next three to five years particularly, we're hoping that we'll really see that opportunity, skyrocket. Not just for our company, but for others that are in the space as well."
Pictured: Mark Bishop, left, and Matt Hornburg, right, co-founders of marblemedia