TIFF unveils its top 10 Canadian films of 2011
The Canadian film event spotlights gangster genre pics like Guy Maddin's Keyhole and Nathan Morlando's Edwin Boyd.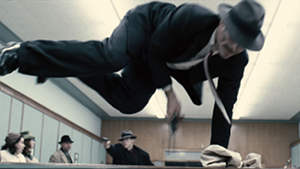 The Toronto International Film Festival (TIFF) has an apparent taste for the gangster genre as it unveiled its top 10 best Canadian features of 2011 on Tuesday.
The honours were bestowed at a swanky TIFF-hosted party in downtown Toronto at The Hoxton, emceed by on-form TIFF programmers Steve Gravestock and Magali Simard.
Leading the list is Guy Maddin's 1930s gangster pic Keyhole, Nathan Morlando's real-life bank robber drama Edwin Boyd and Jason Eisener's reworking of the crime film with Hobo With a Shotgun, about a homeless vigilante blowing away crooked cops and other lowlifes with a pump-action shotgun.
Also making the 2011 TIFF list are five Quebecois films: Jean-Marc Vallée's Café de Flore, Guy Édoin's Marécages, Philippe Falardeau's Monsieur Lazhar, Canada's contender in Oscar's best foreign language feature competition, Ken Scott's Starbuck and Le Vendeur, by director Sébastien Pilote.
And rounding out the TIFF top 10 list is David Cronenberg's psychological thriller A Dangerous Method and Sarah Polley's Take This Waltz.
The festival's top 10 short film selections for 2011 includes Michelle Latimer's Choke, Doubles With Slight Pepper, by Ian Harnarine, which won best short film at TIFF in September, The Fuse: Or How I Burned Simon Bolivar, by Igor Drljaca, and Hope, by Pedro Pires.
Also included on the TIFF's shorts list is No Words Came Down, by Ryan Flowers and Lisa Pham, Philippe Baylaucq's Ora, Rhonda's Party, by Ashley McKenzie, Sophie Goyette's La Ronde, Trotteur, by Arnaud Brisebois and Francis Leclerc and We Ate the Children Last, from filmmaker Andrew Cividino.
Canada's Top Ten films is restricted to homegrown films that screened at a major film festival or received a domestic theatrical release in 2011, and were made by Canadian filmmakers that typically work at home or make Canadian-financed films.