'She Takes On The World' blog wins Digital Launch Pad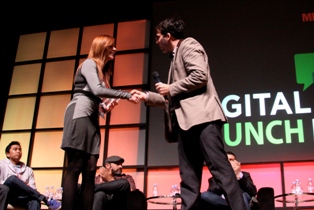 Emmy-award winning producer Natalie MacNeil's She Takes On The World digital blog for career-minded women on Monday was named the 2011 Digital Launch Pad winner at the nextMEDIA conference in Toronto.
"This is truly one of the hottest and most innovative web destinations, with fresh ideas and content, and it was a clear winner," Mediacom's Matt Di Paola, who sat on the judging panel, said in a statement of MacNeil's blog site.
MacNeil beat out in Digital Launch Pad competition three creators of web series — Jonathan Robbins of Clutch, Jason Leaver of Out With Dad, Michael Grand of  White Collar Poet – and Nathon Gunn of Social Game Universe, whose digital software allows companies to gamify their websites.