Canadian docs Indie Game: The Movie and Payback head to Utah
Playback Daily catches up with the directors of both films on being selected for the prestigious Sundance Film Festival this winter.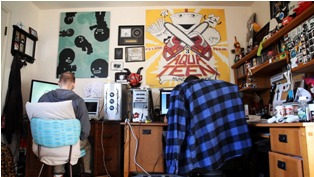 Two Canadian documentaries are off to experience the snowy climes and packed schedules of Sundance this winter.
Indie Game: The Movie and Payback are both set to premiere at Sundance in the World Cinema Documentary Competition, announced this week.
Indie Game: The Movie (pictured) created by Winnipeg's James Swirsky and Lisanne Pajot, is a crowd-funded doc about the trials and tribulations of developing independent video games and getting them to market.
Swirsky and Pajot produced, directed, edited, and wrote the film, and say that the chance to screen it at Sundance is a dream come true.
"I think Sundance is something we always dreamed about, but one of those dreams that you kind of keep at bay. This whole movie was made with a pragmatic independent spirit, and when you're doing things with a pragmatic spirit, you don't write down 'premiere at Sundance' in your strategy," Swirsky tells Playback Daily.
The project was funded from their personal savings, and through two internet crowd-sourcing campaigns. The first, which Pajot says "literally kick-started the project," raised $23,000 in 48 hours; the second, towards the end of the project, raised $71,000 in 24 hours.
Swirsky says he thinks there's an appetite for this type of doc, "movies that are a little esoteric and technical, but not too much."
"When you look at the documentary landscape as it concerns video games, there's not much," he explains. "For the size of video games, it's actually astounding how few documentaries there are. And all the documentaries that are out there tend to gravitate towards the other side of the equation, which is the players, because it's a little more colourful. We were attempting to make the first real high-profile documentary about video game design."
On the other side of the topical spectrum, Jennifer Baichwal's NFB doc Payback will premiere in the same category, the director's third film to play at Sundance.
The decision to target Sundance was really one of timing, Baichwal says.
"We thought we'd be finished for TIFF but then we were still editing," says Baichwal. "It was a timing thing, but also it's a really good launch festival, in the right place, because it's very respected. So it kind of sets the film off in the right way."
Payback is based on the Margaret Atwood bestseller Payback: Debt and the Shadow Side of Wealth.
The film traces how debt influences relationships, societies and governing structures, looks at the link between debtor and creditor, and the ideas of "owing" and "being owed" in different contexts.
Payback was produced and executive-produced by Ravida Din. Nicholas de Pencier, a frequent Baichwal collaborator, directed cinematography. Baichwal wrote and directed the film.
The film will be released theatrically by Mongrel Media in Toronto on March 16, in Vancouver on March 23 and in other cities shortly afterwards. A U.S. release is being targeted for spring.