Bardel Entertainment expands to Kelowna, B.C.
The animation studio and production company is adding a new office in B.C.'s Interior, and working on new-talent incubation with Okanagan College.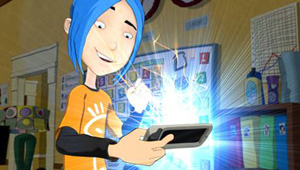 Vancouver-based Bardel Entertainment, the animation studio and production company responsible for Zeke's Pad (pictured) and Chaotic, is expanding into Kelowna, B.C.
The new satellite office, which will open in January 2012, will house about a dozen editors and animators. The studio is aiming to increase that number to 50 in the next three years, a release on the announcement stated.
The Canadian studio is also in discussion with local post-secondary institution, Okanagan College, on new animation programming to attract talent to the region.
"Our future students will benefit greatly from opportunities to work with an entertainment company of this calibre," Heather Schneider, regional dean, Central Okanagan, Okanagan College, said in the same release.
The move to B.C.'s Interior region was spurred by a combination of regional tax incentives and investment from B.C.-based lender First West Capital, a division of First West Credit Union, the statement said. The FI has a $60 million fund targeted at providing financing to small- and medium-sized businesses.