Handsome Canadians land ani work on Ugly Americans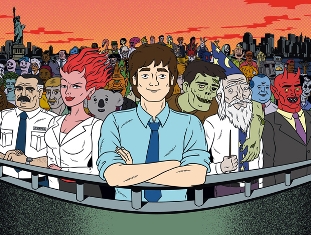 Markle Productions and Solis Animation have sealed a deal with Comedy Central to produce and animate the second half of season two of Ugly Americans.
Under their new shingle Handsome Canadians – get it? – Markle Productions' Martin Markle will produce the animation portion while Solis Animation's Les and Lou Solis will direct animation and layout. New York City-based Augenblick Studios will provide design packs and animatics.
Both Solis and Augenblick previously worked on the show's first and second seasons, alongside Toronto-based prodco Cuppa Coffee Studios, which worked on the show's first season and Ottawa-based Big Jump Productions, which worked on the first half of the second season.
"When it was time for the renewal [this year], they brought me on as a producer to come together with a budget," Martin Markle tells Playback Daily, adding that he and Solis decided to bid on the next portion of the series together under the Handsome Canadians banner.
Markle adds that the show's design is unique. "We use Flash to animate the series, but it looks more like high quality traditional animation," he says. "We put a lot of effort into making it look [unlike Flash]. It's quite rich; it's beautifully art-directed and the animation is good."
Ugly Americans follows Mark Lilly, a social worker for the Department of Integration, as he helps new citizens – human and "other" (that's zombies, vampires and werewolves to name a few) – acclimate to city life in New York City, and any issues that arise with his zombie roommate and demon ex-girlfriend.
The show premiered March 17, 2010 on Comedy Central with a 14-ep run. It picked up with a second season June 2011 with another 10 episodes, and has been on hiatus since September of this year.  Both seasons of Ugly Americans aired on the Comedy Network in Canada – the second season premiered June 30, 2011.
Markle says this contract is considered an extension of the second season. "It's exciting to be working for the same broadcaster that produces The Daily Show and South Park," he adds, "and with people who come from such an esteemed comedy background."
The episodes are slated for a spring 2012 delivery.
Note: The original version of this article omitted Big Jump Productions' contribution to the second season of Ugly Americans. Playback regrets the omission.