IFC Midnight acquires U.S. rights to The Corridor
Evan Kelly's sci-fi horror flick finds an American home with the U.S.-based genre distributor.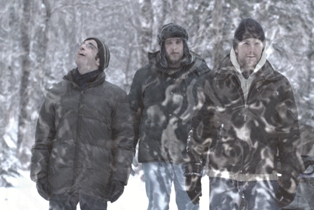 U.S. rights to Evan Kelly's The Corridor have been picked up by genre distributor IFC Midnight, a division of IFC Films.
The sci-fi thriller, Kelly's directorial debut, was written by Josh MacDonald (Faith, Fraud & Minimum Wage) and stars Stephen Chambers, James Gilbert (The Tudors, Saw) and David Patrick Flemming. Craig Cameron and Mike Masters produced.
The deal was negotiated by Jeff Deutchman, director of Acquisitions & Productions for Sundance Selects/IFC Films with Nate Bolotin at California-based XYZ Films on behalf of the filmmakers. Toronto-based distributor CinemaVault holds the international rights for the film.
"IFC Midnight has a great record and reputation with genre film and we consider ourselves fortunate to have caught their eye," Evan Kelly tells Playback Daily. "We are looking forward to announcing a distribution deal for Canada in the upcoming weeks."
The Corridor won the Gold Audience Choice award for Best Canadian Film at the Fantasia International Film Festival in Montreal and the AMD award for screenplay at Fantastic Fest 2011.
The film also won Best Feature at the Rhode Island International Horror Film Festival and was an official selection at the Toronto After Dark Film Festival. As well, Chambers was additionally the recipient of the Best Actor award at Tulsa International Film Festival.
The story follows Tyler Crawley, newly released from the mental institution he landed in when he had a breakdown after his mother's death. In an attempt to rekindle old friendships, Tyler and his friends go on a weekend getaway that goes bad when they encounter a corridor that sharpens their senses, but also gives a window into each other's minds.
"Our film had modest beginnings and was financed without distribution in place," says Kelly. "We are grateful that we were able to make a film that has found an audience, and awards, at festivals around the world, and that it is finding a home in the marketplace as well."
The Corridor was shot in Halifax with funding from Telefilm Canada and Film Nova Scotia.
Update: This article previously did not include producers Mike Masters and Craig Cameron; Playback regrets the omission.