Montreal adds House of Stairs to feature production slate
More good news for Montreal crews: a Martin Villeneuve-directed screen adaptation of author William Sleator's dystopian young adult novel is to be shot in the city.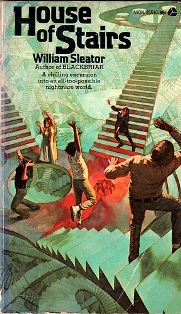 Montreal is getting another visual effects-heavy movie shoot from south of the border.
Local indie producer Michael Solomon has joined a screen adaptation of a young adult novel by the late American sci-fi writer William Sleator to be shot in Montreal.
Doug Taylor (Splice) has been brought on board to pen a screenplay based on the 1974 novel House of Stairs, to be directed by Martin Villeneuve, the brother of Denis Villeneuve.
Solomon of Montreal-based Band With Pictures will co-produce the screen adaptation of House of Stairs with Scott G. Hyman, a Los Angeles-based film producer that founded the Vancouver-based production company Zest Productions to shoot projects in Canada, and Michael Glassman (Phat Girlz).
House of Stairs is about five 16 year-olds living in a dystopian near future that attempt to seek out the frightening truth behind the inescapable house of stairs they are trapped in.
The visual effects-heavy film will be shot in Montreal to tap provincial and federal tax breaks and additional digital media production incentives. News of the production follows Sony Pictures' announcement that it intends to shoot Houdini and Smurfs 2 in the city. Director Roland Emerich is also due to shoot the $175-million sci-fi epic Singularity there in fall 2012.
Sleator's novel has a similar atmospheric feel to Cube, the 1997 sci-fi thriller by Vincenzo Natali that kick-started his directorial career and led to his collaboration with Doug Taylor on Splice, which performed well at the box office.
Taylor's other screenwriting credits include the TV series Naked Josh and the indie film In the Name of the King: A Dungeon Siege Tale, directed by Uwe Boll.
Martin Villeneuve's directorial debut, Mars et Avril, which stars Caroline Dhavernas and Jacques Languirand, is due to be released in 2012.
The House of Stairs project will be packaged for production in mid- to late-2012.
Based in Los Angeles, Hyman's producer credits include the Fox Searchlight release 500 Days of Summer, Miss March and Our Family Wedding.
The U.S. producer is now looking to produce films in Canada, based out of Vancouver, as he partners with local producers and exploits local tax breaks.
The move follows a positive experience by Hyman and his production crew on A Dennis The Menace Christmas, which was shot in Montreal.
Photo: Hill Country Bookshop / Flickr Creative Commons