Laszlo Barna developing Jack Layton biopic for the CBC
Shelley Erikson is penning a script for a possible TV movie based on the life of the former NDP leader who died earlier this year.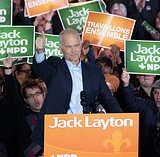 The CBC is backing the development of a TV biopic for the late Jack Layton from indie producer Pier 21 Films.
Shelley Eriksen has been hired to pen a script, with the support of Olivia Chow and other members of the family for the former New Democratic Party leader and leader of the Opposition in the Canadian Parliament.
An MOW order from the CBC is contingent on script approval.
Laszlo Barna will executive produce the Layton project, which is yet in its early stages and follows the death of the Canadian politician from cancer in August 2011.
Barna, a veteran Canadian film and TV producer, was behind previous socially-driven biopics, including Choice: The Henry Morgentaler Story in 2003, Milgaard in 1999 and Diana Kilmury: Teamster in 1996.
During the 1980s, Barna also did a string of documentary shorts on the union movement.
Photo: Matt Jiggins / Flickr Creative Commons