CBC picks up Murdoch Mysteries for a sixth season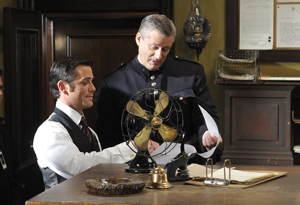 As it turns out, reports of Murdoch Mysteries' death have been greatly exaggerated.
After Citytv announced in September that the Victorian-era detective series' fifth season would be its last, lead producer Shaftesbury has have found a new home for the popular Canadian show on CBC.
"It is very exciting to have this much loved, quality, Canadian drama at CBC. It complements our programming and continues our commitment to Canadian-produced drama," said Trevor Walton, executive director scripted and commissioned programming at CBC, in a statement.
"With so many stories left to tell, we look forward to finally bringing Murdoch Mysteries to a national audience and growing our passionate fan base in partnership with the team at CBC," added Christina Jennings, Chairman & CEO, Shaftesbury.
Production on the one-hour drama series' sixth season is due to begin in spring, 2012 with UK drama channel Alibi and ITV Studios Global Entertainment returning as international production partners.
Based on Maureen Jennings' Detective Murdoch novels, Murdoch Mysteries follows a detective played by actor Yannick Bisson in 1890s Toronto. The idea for the show came from three made-for-TV movies that aired in Canada in 2004 and 2005. A one-hour drama series premiered on Citytv in 2008 and has been sold to more than 100 countries.
Production on the show's fifth season is due to wrap this month in Ottawa.