In the writers room with Rob Sheridan
Playback catches up with the Canadian expat on his two new comedy projects with ABC and how he landed them.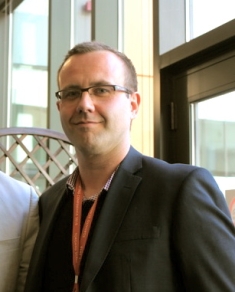 It looks like Rob Sheridan made the right move.
The Canadian comedy writer, whose credits include Corner Gas, 18 to Life, Less Than Kind and Little Mosque on the Prairie, moved to Los Angeles in late 2009, signing with William Morris Endeavor (WME) Entertainment for U.S. representation and landing a blind pilot deal with Warner Bros in 2010. After joining the writing staff for CBS sitcom Mad Love the same year, the obligations of the staffing gig soon ate up all his spare time, and he and Warner Bros agreed to roll his development deal to 2011. Fast forward to this fall and Sheridan and Warner started pitching ideas – one of which he and WB loved that revolved around a 16-year-old who goes into a coma and wakes up when he's 32 – but not finding any luck with the nets. However, this year things started to heat up for the writer and last week it was announced two of the half-hour comedy projects he has been working on have been sold to ABC. Here, Playback Daily catches up with Sheridan on how the deals played out.
Tell us about how the Michael Lewis project came to you:
"…Warner Bros were really great, they were really behind the [coma sitcom] idea, they were still going to pay me to write it on spec for the studio and we would maybe take it out and sell it as a script this year. So that was looking like the way things were going to go. That was only about eight weeks ago, I guess, and then I got a call from Warner Bros, about this show that they had already sold that show to ABC, called Home Game, based on the Michael Lewis (Moneyball) book, but they didn't have a writer attached. The producer, Greer Shephard, had read a sample script of mine at one point and had really liked it, and remembered it, and there was something in the tone of it that really spoke to her and she felt like that would be a good fit for Michael Lewis and his voice.
The funny thing was, when the studio talked to Greer, they said, 'you should know one thing, that this guy doesn't actually have any kids' [laughs]. I sat down with Greer and she and I hit it off immediately – they sent me the book, and I read it and loved it, and we sat down with Michael and he liked my work as well.
I've never adapted anything before, so that's new. But so far, I'm really enjoying it. It's great to have source material that is – they're pre-sold on the characters and the concept, so I don't feel like I need to get over that hill. Then you go through it and mark it up and find things that speak to you, and fortunately the things that spoke to me were the same things that spoke to the producer and it just kind of clicked. In this case, even though I don't have kids, it's an interesting book – it is about fatherhood, there are lots of shows about raising kids, but Michael's take on it is so specific. He was really a reluctant father; his take on it was that he didn't immediately feel what he was told he was supposed to feel. It's kind of about him learning to be the father that he's supposed to be. He's got a very wry take on it.
We're doing it as a single-camera, we're hoping that if it gets produced, it will be cinematic and something a little bit different.
And how did you become a part of the Coquette Productions project?
WME have been amazing in getting me these opportunities, and putting me in front of people – otherwise no one would know who I am [laughs]. I got a call from them [regarding meeting with Coquette Productions] so I sat down with [producer] Thea Mann and [Coquette partners] Courteney Cox (Cougar Town) and David Arquette (Scream), and they had a couple of ideas, one that's also being developed by another writer, based on [Cox and Arquette's] relationship – they were married, now they're divorced, but they work together…I couldn't really get my head around that one. I didn't get the relationship, I was meeting them for the first time, so I was afraid to ask too many questions [laughs] – but they were really lovely and they mentioned something else, which was, based loosely on a chain of restaurants in the south that specializes in serving this really over the top heavy food. So that was the jumping off point.
They had the idea of, there's a restaurant which serves extremely fattening food to people who love it, and there's a woman who runs the place that was formerly very heavy herself and has just lost weight. Her boyfriend also works there, he's heavy as well and broke up with her when she lost the weight because he was too insecure to date her anymore. So that one was more from scratch – they had an idea for some characters, but didn't know how they'd fit into that world. So in that case, I really had to put the pitch together more or less from scratch. And then we took it out – it was with ABC Studios, so we took it to ABC, and they really loved the pitch and they bought it in the room.
The thing that I feel lucky about, having both of these projects at the same time, is that one did seem like an ideal classic multi-camera sitcom. I liked the idea of her being this formerly overweight person working in this restaurant, it reminded me of Sam in Cheers – he was a recovering alcoholic working in a bar. And just the setting and the ability to have people coming in and out – it seems like the kind of show where you can get back to what really works about a multi-camera. You could have whole episodes that take place in the restaurant. To me, the he sitcoms that I loved growing up were like really filmed plays – and I feel like the way that some of them now, they are a little chaotic and you're all over the place and there's not really a home base. I always liked the idea of tuning into a show and knowing where you're going to be – 'oh, now I'm going to spend a half-hour in the Cheers bar.' That's what I'm hoping to do with that one."
Sheridan, a Canadian Film Centre graduate, is represented by William Morris Endeavor Entertainment and Meridian Artists.
Related stories: In the writers room with Futurama's David X. Cohen