CBC, ITV sign new catch-up agreement for Coronation Street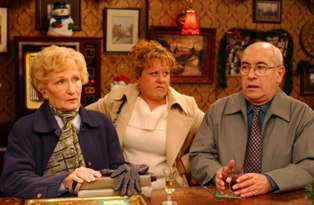 London-based ITV Studios Global Entertainment last week announced a catch-up rights agreement with CBC for its long-running soap series, Coronation Street.
By airing two episodes per night, five on Sundays and posting them all online the following day, CBC expects to close the nine-month gap for Corrie fans in Canada by next September, says Christine Wilson, executive director, content planning at CBC.
"We'll make sure that never happens again," Wilson says, of the pre-emptions that put the series behind in the first place. "Even if it doesn't play in its normal timeslot we'll put it in another timeslot," Wilson tells Playback Daily, adding the network does not want to risk losing hardcore fans who are willing to find the series online.
In primetime, the average minute audience (AMA) is around 735, 000, Wilson says, with another 65,000 measured during the show's late-night broadcast and another 224,000 on Sunday.
"In terms of the number of different people reached, over the course of the week, that's about four million different people," Wilson says.
Coronation Street, which after 50 years is the world's longest-running soap opera, also gets about 100,000 streams per week, Wilson adds — one of CBC's most popular titles. The Corrie audience is 64% female and 36% male with an average age of 55.
In August CBC inked a four-year agreement for Coronation Street, but the catch-up agreement — which was confirmed last week although double episodes have been airing since September — only runs until the nine-month gap is closed.
"The question that still hasn't 100% been answered is how many days behind is a safe number of days behind," Wilson says, adding that CBC will likely stay about a week behind BBC to ensure a "technical hiccup" doesn't cause them to run out of episodes to play.