Make Believe Media sets sights high on doc series
The Vancouver prodco is developing an unscripted miniseries about Mt. Everest based on director Dianne Whelan's latest documentary.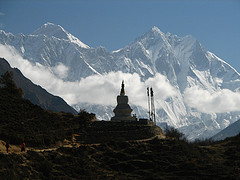 Based on her 2011 documentary 40 Days at Base Camp, director Dianne Whelan (This Land) is heading back to Mount Everest this spring to shoot an eight-part miniseries based on the high-altitude film.
Titled Base Camp Everest, the series will focus on the personalities and professions that dominate the famed informal village that marks the start and end of an Everest ascent.
40 Days has been touring the Canadian festival circuit this fall and based on the interest it is already generating, Whelan's shingle, Rebel Sisters, and Vancouver-based non-fiction prodco Make Believe Media, have decided to pursue a 8 x 60-min series based on the same subject matter.
"This is perfect for History or Discovery," says Ghent of the series, which is currently being shopped to Canadian and international broadcasters.
40 Days at Base Camp premiered at the Vancouver International Film Festival and open the Banff Mountain Film Festival. Ghent also hopes to get it into Sundance.
Whelan had originally pitched the documentary as a TV documentary, but when she failed to find funding, she self-funded the project and took a small team of four to the mountain.
This time, she'll be going with a much larger team and is working to secure a budget in line with successful non-fiction TV series such as The Deadliest Catch or Ice Pilots.
The series is being shopped as an action/adventure format, Whelan says, comparing the Everest environment to a frontier town.
"Base camp is a town with no sheriff," she says. "There are 1,000 people from around the world, and it's like this Wild West town. No one is in control there."
Photo: Mt. Everest / mckay savage, Flickr Creative Commons