TV scribe Adam Barken to co-executive produce CTV's Flashpoint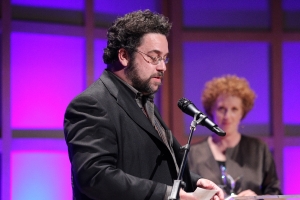 Adam Barken has signed on as co-executive producer for Flashpoint.
The assignment is a step up for Barken, pictured above at Playback's 2011 Film & Television Hall of Fame, who was a story editor on the first two seasons of Flashpoint, which first went to air on CTV and CBS in July 2008.
For the Canadian cop drama's upcoming fifth season, Barken will circle back and work under Flashpoint creators and showrunners Mark Ellis and Stephanie Morgenstern.
After securing a WGC screenwriting award for his work on the rookie season of Flashpoint, Barken went on to writing gigs on other homegrown cop dramas like Shattered and Rookie Blue, where he received a consulting producer credit and worked under showrunner Tassie Cameron. Barken has also been one of Playback's Ten to Watch and recipient of 2011′s Panavision Award at Playback's Hall of Fame.
Barken, who is repped by The Alpern Group, also has three drama projects in development at CTV, Shaw and the CBC.
Flashpoint is produced by Avamar Entertainment and Pink Sky Entertainment.
Correction: This article originally incorrectly identified Adam Barken as "co-showrunner" on the series. His correct title is "co-executive producer."