VIFF 2011: Anne Emond's Nuit #1 wins top jury prize
Quebec films continue their Canadian festival competition dominance as Guy Edoin's Wetlands is named first-runner-up in Vancouver.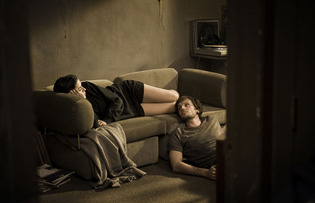 Quebec director Anne Emond's Nuit #1 (pictured) won the top juried award at the Vancouver International Film Festival, which wrapped on the weekend.
Emond's first feature, about an intimate one-night stand, captured the Shaw Media Award for the Best Canadian Feature Film, which includes a $20,000 cash prize.
VIFF's Canadian Images sidebar jury praised the two-hander, which stars Catherine De Léan and Dimitri Storoge,"for its unflinching intimacy and atmosphere of containment with candour and lucidity."
The runner-up in Vancouver was a second Quebec film, Guy Édoin's Wetlands.
Nuit #1 also earned a special citation from the Toronto International Film Festival jury in the Best Canadian Film competition.
The Canadian Images jury also gave Andrew Cividino the Most Promising Director of a Canadian Short Film Award for We Ate the Children Last.
Elsewhere in the People's Choice Award competition, the top audience award in Vancouver went to the the Iranian film Nader and Simin, A Separation, by writer/director Asghar Farhadi.
Farhadi's film about a wife looking to divorce her husband to live abroad earlier won the Golden Bear prize in Berlin.
And Ken Scott's Starbuck was voted the most popular Canadian film by Vancouver fest-goers, Charles Wilkinson won the People's Choice Award for best Canadian documentary Peace Out, while Susanne Rostock's Sing Your Song won for Most Popular Nonfiction Film.
VIFF last week announced that Chinese director Sonthar Gyal won the Dragons and Tigers Award for Young Asian Cinema for his Tibetan film The Sun-Beaten Path.