Looking for 'Euphoria' in Manitoba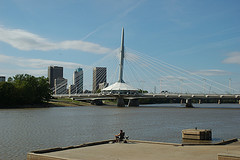 Euphoria, an indie road film about a young woman determined to discover more about her family roots in Manitoba, has begun production in Winnipeg and other locations throughout the province.
A first dramatic feature for director Paula Kelly, Euphoria tells the story of a six-year-old girl taken away by her mother, played by Sarah Constible (Todd and the Book of Pure Evil, Walk All Over Me) from the fictional small town of Euphoria, Manitoba. After years on the road, the now-grown woman, played by Brooke Palsson (Eye of the Beast) begins to unravel some truths about her past.
She decides to leave Montreal, where she is living an underground existence with her mother, and search for her father – who she just discovered is alive – back in Manitoba.
This is the first dramatic feature film for Kelly, whose previous film projects include a feature-length CBC documentary, Appassionata, and a recent public art film, Souvenirs, created during a six-month artist residency at the City of Winnipeg Archives.
The cast also includes Darcy Fehr, Susan Kelso and Kassidy Brown (all who appear in Passionflower, currently screening at the Vancouver International Film Festival).
It is produced by Ian Dimerman and Brendon Sawatzky for Inferno Pictures and Paula Kelly for Journey Films. Manitoba key crew include DOP, Paul Suderman, production designer Gord Wilding, and editor Bruce Little.
Euphoria is financed by Telefilm Canada, Manitoba Film & Music, the Manitoba and Federal Tax Credit programs and Super Channel with support from the City of Winnipeg and the Province of Manitoba.
Photo: Winnipeg / raindog, Flickr Creative Commons