ABC picks up Jason Belleville script
The half-hour about a small-town fire department has a script commitment from the U.S. net and is being produced by L.A.-based Doozer and Warner Bros TV.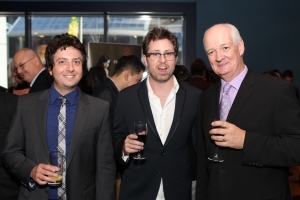 A few weeks after his Showcase comedy Almost Heroes was cancelled, Canadian writer Jason Belleville is celebrating after ABC bought his half-hour comedy about a volunteer fire department with a script commitment, plus penalty.
On board for the untitled project is studio-based Doozer, the production shingle for Hollywood writer/producer Bill Lawrence (Scrubs, Cougar Town), and Warner Bros. TV, with whom Lawrence has a development deal.
Belleville (pictured, middle, with brother Ryan at left) will write the sitcom script, which attracted interest from both ABC and NBC.
After a brief bidding war, the project landed at the alphabet net.
Belleville, a dual citizen, said he'd be happy to park his project at either network.
"NBC, ABC – I'd be thrilled to be with either. It was one of those bidding wars where you're happy with both," he says. "They're both places I'd love to work over the course of the next few years."
The news on the ABC deal follows the sadder news that Almost Heroes, which Belleville wrote for Showcase, and in which his brother Ryan starred, was cancelled by Shaw Media.
However, he says reception to his Showcase comedy was warm in L.A. and he hopes that the Canadian series can provide a springboard for its cast.
"Almost Heroes was a ridiculous amount of fun, nothing can fully take away the sting, but it's nice to know, that the work I was doing on that show, and the work I did on other shows like Testees, has been noticed on both sides of the border," he said.
"It's pilot season down there, so hopefully Almost Heroes will give [the cast] lots of options," he added.
Belleville says he will find out likely by the end of 2011 if ABC will send his workplace comedy to pilot.
Until then, he'll be working on the script with Doozer and pressing ahead with another project with brother Ryan.
The duo are also meeting next week with their Los Angeles reps, UTA, about a feature.
"One of my favourite things to do is to work with Ryan… so we have to figure out what the next Belleville Brothers project will be," he says.