Malin Akerman and Tyler Labine topline Cottage Country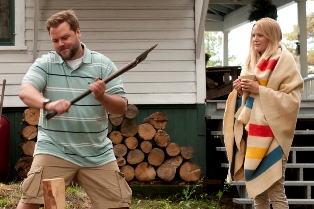 Frank Siracusa is at long last making movies with business partner Paul Gross at Whizbang Films, as they back Peter Wellington's Cottage Country, now shooting upcountry from Toronto in Muskoka, Ontario.
"I told Paul 'this script is not on our slate, you need to read it,'" Sircusa tells Playback Daily about Jeremy Boxen's dark-comedy screenplay about a perfect young couple, played by Malin Akerman and Tyler Labine, who stop at nothing in their pursuit of The Good Life.
In 1999, Siracusa pacted with actor Paul Gross to form Whizbang, which subsequently partnered up with rival film producers like Rhombus Media on Passchendaele and Hobo with a Shotgun, and Don Carmody and Bollywood producer Ajay Virmani on Breakaway, to get in the movie business.
But it turns out the Cottage Country script impressed Gross enough that Whizbang decided to make the $5 million indie picture on its own, using coin from a bulging Telefilm Canada performance envelope, Astral's Harold Greenberg Fund, and provincial and federal tax credits.
And Alliance Films came on board to release in 2012 a Canadian movie about what can go wrong when two brothers don't see eye to eye on the future of the family cottage.
"It's the time of film everyone can relate to: sibling rivalry and Canadians especially relate to the whole cottage country life experience," Siracusa says.
In Cottage Country, Todd, played by Tyler Labine, wants everything to remain perfect at the family cottage so he can propose to Cammie (Akerman).
But his plan goes astray Todd's slacker brother, played by Daniel Petronijevic, and his hippy girlfriend, performed by Lucy Punch, arrive on the scene and an axe comes into play.
"You have two brothers who argue over the inheritance of the cottage, but they're also fighting and arguing over who has the rights to their childhood memory and their fight results in dire consequences," Siracusa explains.
He adds Whizbang was able to sign up director Peter Wellington and an impressive Hollywood cast on the strength of the script, and being able to fully finance the movie on its own.
"We are a modest independent Canadian producer, and when we were out shopping for cast, that was the challenge placed in front of us," he recalls. "But what got us over the hurdle was the reading of the script."
Filming on Cottage Country runs through Oct. 27 in Muskoka and Toronto.
Cinematography is by Luc Montpellier and editing by Christopher Donaldson.
Siracusa and Gross are executive producing Cottage Country.
Photo credit: Christos Kalohoridis