TIFF 2011: Suki Films to produce fest short Patch Town as feature
Suki's Kimberley Berlin and Susan Schneir talk to Playback about landing a distributor for the feature and what attracted them to the project.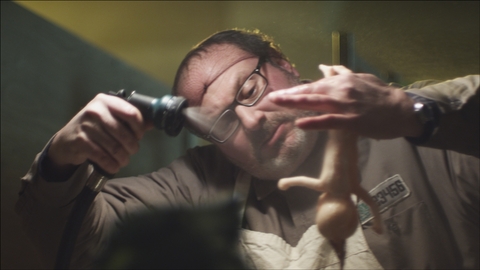 Writer and director Craig Goodwill's Patch Town, which premiered at TIFF, has attracted the attention of Montreal's Suki Films.
Described as an "epic musical satire," the 38-minute short is Goodwill's first film and screened as part of Short Cuts Canada, which won over Suki's Kimberley Berlin and Susan Schneir's.
Suki Films plans on turning the short into a feature-length film.
"It's incredibly Tim Burton-esque," Berlin tells Playback Daily. "Craig was really smart to do it this way [as a short], it really whet the appetite and he wanted to do it as a feature. Susan and I wanted to see more."
Suki is currently in the pre-financing stages, with an eye toward rolling cameras in spring 2012.
"We have Filmoption International as a distributor for Canada and they came on during TIFF. Now we're working on presales," adds Susan Schneir, saying that the short film provides a good idea of what's to come for the feature to potential buyers. "We have a calling card now so we can say, 'this is at least a taste of what it'll be.'"
Filmoption had also previously distributed Suki's past film The High Cost of Living and is on board for its latest production, Rose by Name.
"There's a layered meaning in the film, a really interesting and layered story metaphored as a fable, wrapped up in a wonderful package," explains Schneir on what drew Suki to Patch Town. "It certainly is, in some ways, like a Roald Dahl story, because it's good for children but adults will also enjoy it on another level."
As a Russian fable, it also spoke to Berlin, whose Russian grandmother told her similar fairy tales.
"This is a really lovely story told in song and dance with incredibly strong actors. It's a comment on socialism, politics and it has a little bit of something to interest everyone," she says. "It's not particularly a drama, not particularly an action, not particularly a thriller, just a wonderful story. We hadn't come across anything like this."
Patch Town stars Lisa Ray and Rob Ramsay, with producer/writter Catherine Gourdier, producer Anneli Ekborn and coproducr David Sparkes. Gourdier and Sparkes will return to produce the feature with writers Christopher Bond and Trevor Martin.
It will be heading next to the Cinefest Sudbury International Film Festival, running until Sept. 25.