TIFF 2011: 'Early days' for Canadian film deals
The Film Sales Company exec Andrew Herwitz says negotiations are just getting started, while TIFF's Cameron Bailey says it'll be a few weeks before the sales picture for Canadian films is clear.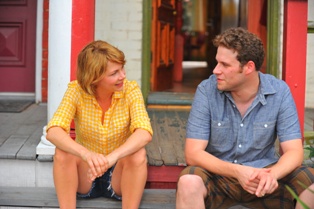 As the 2011 Toronto International Film Festival wrapped Sunday, a raft of Canadian films were left without U.S. and other key foreign distribution deals.
Among key acquisitions at TIFF was Michael Dowse's Goon going to Magnolia/Magnet, joining a host of major titles to sell in Toronto including Lynne Shelton's Your Sister's Sister, Steve McQueen's Shame, Abel Ferrara's 4:44 Last Day on Earth, Luc Besson's The Lady, and Andrea Arnold's Wuthering Heights.
But happy endings in Toronto eluded most Canadian titles at TIFF.
Tops among the Canadian acquisition titles awaiting foreign suitors is Eric Canuel's Barrymore, Christopher Plummer's one-man show about Hollywood great John Barrymore, and Sarah Polley's Take This Waltz (pictured), which stars Michelle Williams, Seth Rogen and Luke Kirby.
"It's early days," Andrew Herwitz of The Film Sales Company, which shopped Barrymore in Toronto to U.S. buyers, told Playback Daily after a world premiere for the stage-to-screen adaptation at Bell Lightbox.
Herwitz said private screenings are planned in Los Angeles and New York City in the coming weeks.
Also awaiting a U.S. deal after a Toronto gala bow is Winnie, the Canadian-South African coproduction that stars Jennifer Hudson as Winnie Mandela, the ex-wife of former South African president Nelson Mandela, and Nathan Morlando's Edwin Boyd, which won for best Canadian first feature on Sunday.
Though high-profile Canadian films likely won't get the top dollar possible when they sell during TIFF, deals are possible in the next month leading up to the American Film Market.
"We have to give it a few weeks after the festival to know what the total sales picture is like. A lot of deals are on the table," TIFF co-director Cameron Bailey told Playback Daily.
He said film buyers in Toronto had to sort through 122 world bows before they could start and possibly conclude negotiations.
"It can't all happen in 11 days," Bailey insisted.