Marla Black wins WIFT-Deluxe Internship Program
The emerging producer's win was announced at the Women in Film and Television-Toronto and CBC reception on Wednesday night.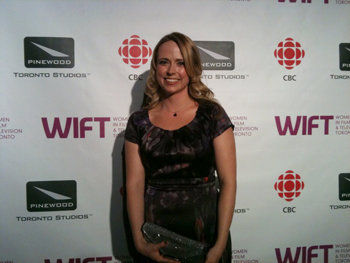 The WIFT and CBC reception was in full swing on Wednesday night at Pinewood Toronto Studios when Marla Black was presented as the winner of the Deluxe Producer Internship.
Labelled as one to watch by industry peers in attendance, the Calgary-born actor was selected as an emerging producer for a three-week program of hands-on training at the Deluxe post-production studios in Toronto.
Starting in November, she'll shadow the company's execs and tech experts to learn about production equipment planning and requirements, as well as post-production video, film and sound.
Black has spent time behind the TV cameras as well as in front of them, working as a music supervisor for Canadian Idol and Battle of the Blades and is currently producing her first feature Mary, a comedy about immaculate conception, with executive producer Christopher Zimmer (New Waterford Girl, The River King, Partition). Black also has two other features and a TV show in development.
Her win was announced by Diane Cuthbert, Deluxe's VP of sales.
"It was a tough choice, we were overwhelmed with the investment these women are willing to make," she noted in front of the festive crowd.
This is the fourth year of the Deluxe Producer Internship program.