Alibi picks up Murdoch Mysteries online series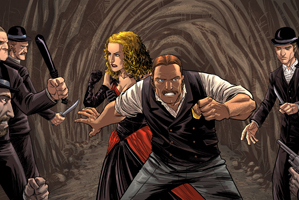 UKTV crime channel Alibi has acquired the original online series Murdoch Mysteries: The Curse of the Lost Pharaohs from Shaftesbury.
The 13 x three-minute series from the prodco's digital media arm Smokebomb Entertainment blends live-action and animation, with art by DC Comics illustrator Francis Manapul. It was originally created as an extension for season four of Murdoch Mysteries on Citytv.com, launched earlier this summer.
With the new deal, Curse will be featured as an online precursor to the season five premiere of Murdoch in the first quarter of 2012. (Shaftesbury is currently in production on season five of Murdoch.)
ITV Studios Global Entertainment has previously sold Murdoch in more than 100 countries and has added Curse to its MIPCOM sales catalogue. ITV will also handle international sales for the title outside of Canada and the U.K.
"This spinoff series is the perfect way to bridge the gap for UK viewers online and in broadcast until the start of the fifth season," said UKTV's acquisitions manager Alexandra Finlay in a statement.
Curse is produced by Daniel Dales, Jarrett Sherman and Jay Bennett of Smokebomb, directed by Cal Coons (The Listener,  Murdoch Mysteries) and written by Patrick Tarr (Murdoch Mysteries), with financial support from the Bell Fund and CMF.