TIFF 2011: Neuromancer is 'not one medium yelling at the other'
Panelists Jay Firestone, Vincenzo Natali, Trevor Fencott and Francesca Accinelli talk about adapting William Gibson's Neuromancer into a film and game.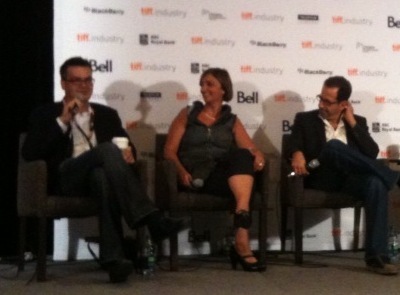 Third time's a charm, though in Jay Firestone's case with the adaptation of Neuromancer, it was more like third time's a charm in 12 years.
As the Toronto International Film Festival started to wind down yesterday, the president of Prodigy Pictures appeared on the TIFF Nexus launch panel, "Developing William Gibson's Neuromancer as a Game and Film." Also on the panel was Trevor Fencott from game company bitHeads, the CMF's Francesca Accinelli and director Vincenzo Natali, who, appropriately, joined the discussion virtually via Skype.
Firestone had previously worked on another Gibson property, Johnny Mnemonic, during his Alliance days and when Neuromancer came along, he knew he wanted to step into a producing role.
But it wasn't an easy road.
"This is my third attempt at getting the movie made in 12 years," said a wry Firestone.
And that's not just because, as Space producer and moderator Mark Askwith pointed out, Neuromancer has proven difficult to adapt, noting that an early Marvel graphic novel version sold poorly and was too literally translated.
The same difficulties apply to the game, so the focus was shifted to staying true to the environment and feeling of the property rather than every minute detail of the story.
"Look at Star Wars: Knights of the Old Republic – it's fun because you get to play as Han Solo, but the players' engagement comes from letting them go through the world," said Fencott.
"A literal translation would be a disaster," adds Natali, who's been working with Fencott from the very beginning of the project. "I wanted to stay true to the tone and story, and we've been lucky that William Gibson has been present in the process. In fact, one of his earlier scripts was completely unfaithful [to the original story] so I knew he'd be open to that."
A successful cross-platform project such as Neuromancer requires a certain amount of freedom for all involved, explains Fencott.
"It's not one medium yelling at the other," said Fencott. "It requires a production company to surrender the reins, which means finding a game company that you trust. Some folks try to wrap their arms around everything and that's typically [where you find] the disconnect. That's where people fail."
The game is funded by the CMF Experimental Fund, and while Accinelli couldn't delve too deeply into details, she said that this particular project drew interest from the Fund's analysts because it was using "unique and innovative tech, and the other side was that William Gibson was involved. Plus, Vincenzo has a great track record, as he won the Telefilm Golden Reel Award."
Neuromancer is still in its early stages of development, but all partners are hoping that the game and film can promote one another. And because the game will allow players to explore Gibson's universe in a more immersive way, Natali adds, "I wouldn't be surprised if at the of the day, people enjoy the game more than the movie."