TIFF 2011: Bitheads' Trevor Fencott on Neuromancer
VIDEO: The gameco president and COO talks about creating a cross-platform environment for Prodigy Pictures' Neuromancer.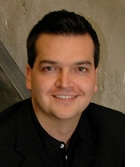 Playback catches up with Trevor Fencott from game company bitHeads following the panel discussion "Developing William Gibson's Neuromancer as a Game and Film" as part of TIFF's Nexus program.
Related stories: TIFF 2011: Neuromancer is 'not one medium yelling at the other'
Interview: Emily Claire Afan / Video: Jennifer Horn

The definitive CDN broadcast and production resource.
Over 5,000 company listings!