TIFF 2011: Michael Dowse's Goon sells to Magnolia/Magnet stateside
The Jay Baruchel-starring hockey comedy is the first Canadian film to sell at this year's Toronto International Film Festival.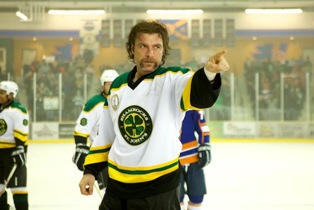 Magnolia Pictures' Magnet label has acquired the Jay Baruchel-starrer Goon, with company president Eamonn Bowles saying of the Canadian hockey comedy by director Michael Dowse: "Goon is a pucking blast. It's a complete crowd pleaser that has all the elements of a future comedy classic."
Magnet laced up its skates for Goon with a reported $2 million acquisition price from U.S. sales agents CAA and Myriad Pictures.
The Canuck comedy also stars Liev Schreiber, Seann William Scott, Alison Pill and Marc-André Grondin, and was shot in Winnipeg.
Baruchel penned the script for Goon with Evan Goldberg (Superbad).
The movie is about a bouncer, played by Scott, who has been touched by the fist of God as he joins a downtrodden hockey team and encourages them to new heights.
Producer credits on Goon belong to Don Carmody, David Gross and Jesse Shapira.
Alliance Films is to release the indie comedy theatrically in Canada.